South Korea's constitutional court has upheld the impeachment of former president Park Geun-hye. She will now be permanently removed from the presidential office for her role in the corruption scandal.
The eight justices unanimously agreed that Park, South Korea's first female president, should no longer hold the presidential office.
It is the first time in South Korea's history that the country's democratically elected leader has been ousted. The court's proceedings were televised live as the verdict was pronounced.
The constitutional court's acting chief Lee Jung-mi said in her ruling: "The president marred the rule of law and representative democracy with her anti-constitutional, anti-legal deeds. She has betrayed the trust of the people". Park's actions amounted to "grave" violation of law, she added.
The verdict, which now strips Park of any immunity from criminal prosecution, added: "The negative effects of the president's actions and their repercussions are grave, and the benefits to defending the Constitution by removing her from office are overwhelmingly large."
To avoid any untoward incident, security has been beefed up outside the court building where scores of Park supporters and detractors gathered in the wake of the judgement.
The court ruling has brought an end to the lengthy leadership crisis battering South Korea. It has been more than three months since Park was temporarily ejected from her duties and Prime Minister Hwang Kyo-ahn took over as acting president.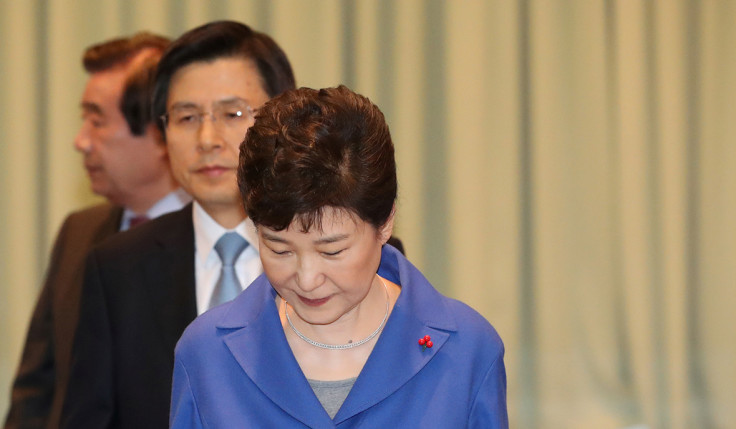 In December 2016, the South Korean Parliament overwhelmingly voted in favour of impeaching Park for her involvement in the influence-peddling scandal. She has been accused of allowing her confidante, Choi Soon-sil, to access sensitive government documents and meddle in political affairs.
The bribery scandal has seen one of the most stunning political downfalls in South Korea, sending shockwaves across the top echelons of politics and business. Millions of protesters took to the streets when the scandal broke out demanding Park's quick removal from office. Park had repeatedly denied any wrongdoing.
Park's permanent successor should be picked within 60 days. Opposition figures are leading in polls.