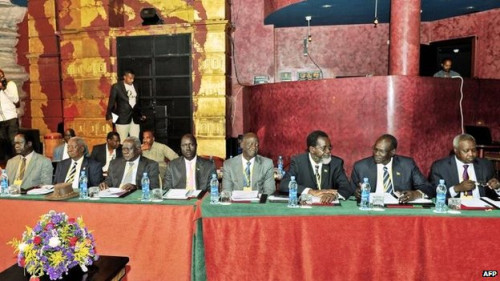 South Sudan's government and rebels have moved to the unusual setting of an upmarket nightclub in an hotel in Addis Ababa, capital of Ethiopia, to continue talks aimed at brokering a ceasefire.
Some delegates were unhappy with the poor lighting and excess noise at the Gaslight nightclub, according to sources close to the talks.
The delegates had to change venue as the previous venue was assigned to Japanese Prime Minister Shinzo Abe, who is currently visiting Addis Ababa at the end of his first tour of Africa.
According to the BBC the Gaslight, in the grounds of the five-star Sheraton hotel, is arguably the most opulent in Addis Ababa's thriving nightclub scene.
The talks are conducted during the day, when the dance floor is not in use.
Negotiations started over three weeks ago in Ethiopia but the warring parties have reached a stalemate as rebel leader and former Prime Minister Riek Machar demands the release of 11 political prisoners accused of attempting a coup.
The government proposed to shift the peace talks to the United Nations compound in Juba, capital of South Sudan enabling the 11 prisoners to attend the negotiations and then return to custody.
However, rebel delegates appeared to have rejected the proposal.
The release is a precondition before a ceasefire is agreed.
Death on the Nile
More than 200 people fleeing fighting in the city of Malakal, Upper Nile State died in a Nile ferry accident.
"The reports we have are of between 200 to 300 people, including women and children. The boat was overloaded," army spokesman Philip Aguer told the AFP news agency.
Heavy fighting was reported in Malakal as the rebels laid siege to the town.
The rebel-held city of Bentiu, the capital of oil-rich Unity State, was recaptured by government forces on Friday. The rebels said they made a "tactical withdrawal" from Bentiu to avoid civilian casualties.
Government troops have been also advancing on the town of Bor, the last state capital still in rebel hands, according to an army spokesperson.
Obama has recently warned that US would stop sending aid to South Sudan, unless a ceasefire is signed.
China has also expressed its concern for the ongoing fighting.
The conflict started when current South Sudan's President Salva Kiir, who is an ethnic Dinka, accused his former and vice-president Machar, an ethnic Nuer, of an attempted coup in December.
Machar denied the allegations and in turn accused the president of planning a violent purge.
The accusations sparked violence between the two tribal groups and escalated quickly into an ethnic conflict, which has caused the death of over 1,000 people and left thousands uprooted.