Given Nigel Adkins' superb record since taking the reigns of Southampton in 2010, you can understand the expletives and the disbelief in reaction to his removal as manager at St Mary's.
From 22nd in League One to 15th in the Premier League in the space of two-and-a-half years, Adkins, who has the best post-war win percentage of any previous Southampton manager, has worked miracles at the south coast club, accelerating an original five-year plan set out by executive chairman Nicola Cortese.
It was that same Italian ambition which led to the sacking of Alan Pardew three years ago. Far from a shrinking violet in football management, Pardew had come within seconds of winning the FA Cup in 2006 while at West Ham United; but despite his credentials wasn't seen as the man to take Saints, who overcame a points-deduction to challenge for a play-off place and won the Football League Trophy in his first season in charge, forward in thw following campaign.
The same principal has been adopted now in the removal of Adkins. Clearly a talented manager, his two trips to Wembley in the 2008/09 season with Scunthorpe United which eventually ended with promotion to The Championship coupled with two promotions in as many years at Saints is enough evidence to suggest Adkins had justified the high-profile appointment.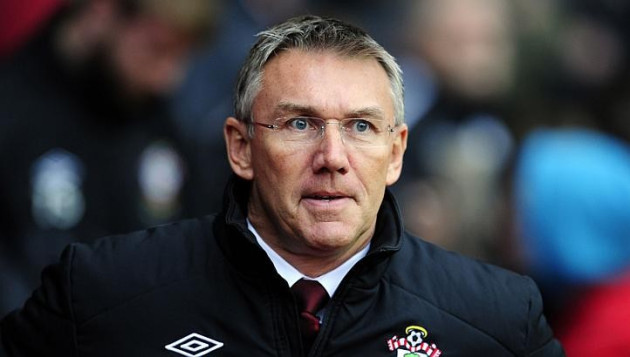 Despite questions over the depth of quality at his disposal in the Premier League, five wins and an accumulation of 22 points, three more than those sides currently facing relegation from the top flight was again a suggestion that Adkins belonged.
But in the summer came a change of emphasis. In came Gaston Ramirez, the highly rated Uruguayan winger from Bologna and England Under-21 forward Jay Rodriguez, a club record signing.
Financial commitment often dictates a swell in expectation from boardroom level. Perhaps from a neutral perspective, Adkins' achievements in putting daylight between themselves and the drop zone represented success with over half the season having passed, but from behind the scenes the target of survival was likely the bare-minimum.
And in the same way Cortese felt that for all Pardew's experience he was the wrong man to fulfill a longing ambition to reach the top flight, the same ethos has comes to bite his successor Adkins, who is clearly not perceived as the man to justify the club's spending strategy.
As Cortese can do now following Pardew's removal, some years down the line with Southampton potentially targeting a top half finish rather than looking over their shoulder, the decision may well become vindicated. For now, Adkins' popularity is clouding any convincing argument for long-term targets.
Chris Hughton and Sean O'Driscioll are among those who have been sacrificed for long-term vision. Adkins is far from the exception, but in the modern day football, appears to be the rule.
In the same way squads will be turned over upon winning a promotion, or qualifying for Europe, managers are increasingly becoming as disposable. In Mauricio Pochettino, Saints have a boss who is tailor-made for the desired scenario.
Upon possessing finances, Pochettino had an Espanyol side punching above their weight in La Liga, stringing together several mid-table finishes; exactly the step Cortese feels Southampton should be taking.
There's little doubt Adkins had warranted at least one season in the Premier League, given the success of his reign; but when did football and gentlemanly conduct ever get on?
How quickly will the tune change at Southampton? Initial fan reaction suggests Cortese and Pochettino will face resistance as early as Monday night's home game against Everton. But a comfortable finish in the Premier League and a string of high profile additions in the summer; then the supporters' loyalty towards Adkins will truly be tested.