They were the photos that alerted the world to the migrant crisis in south-east Asia.
AFP photographer Christophe Archambault was one of a group of journalists who managed to track down a wooden fishing boat carrying an estimated 400 Bangladeshi and Rohingya Muslims adrift in the Andaman Sea off the island of Koh Lipe on 14 May.
His pictures of the desperate migrants pleading for water and wolfing down food dropped by the Thai navy made front pages around the world.
All contact with the vessel and its occupants was lost until it was spotted by a fisherman off the coast of Indonesia's Aceh province. He and several other Indonesian fishermen towed the stranded boat to shore.
Since then, the boat's former occupants have been held at a confinement camp at Bayeun district in Aceh province. Another AFP photographer, Chaideer Mahyuddin, has tracked down some of the men, women and children from Archambault's heartbreaking photos.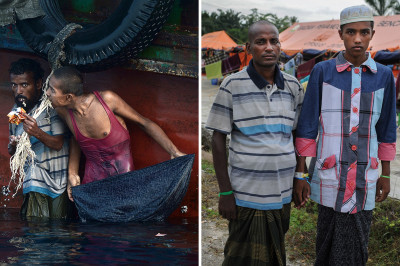 More than 4,000 migrants have landed in Indonesia, Malaysia, Thailand, Myanmar and Bangladesh since Thailand launched a crackdown on people-smuggling gangs. Around 2,000 people may still be adrift in boats on the Andaman Sea and Bay of Bengal, the United Nations said.
South-east Asian nations have agreed to intensify search and rescue efforts to help vulnerable "boat people" stranded in the region's seas.
Countries affected by the crisis agreed at a meeting in Bangkok to set up an anti-trafficking task force and approved a wide-ranging list of recommendations to tackle the "root causes" of the crisis – although the plan was carefully worded to avoid upsetting Myanmar.
Myanmar does not consider the Rohingya as citizens, rendering them effectively stateless. It does not call them Rohingya but refers to them as Bengalis, indicating they are from Bangladesh.