Southeast Asia migrants crisis: 800 Rohingya land in Indonesia while others 'face death at sea'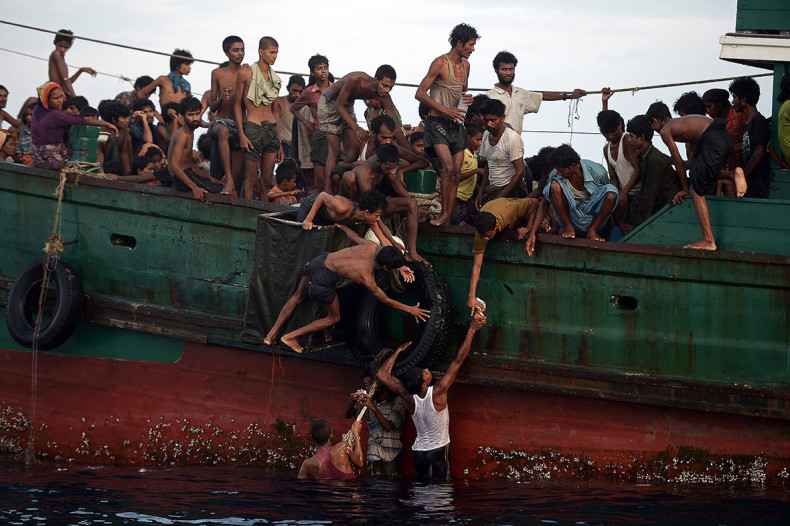 More than 800 migrants from Myanmar and Bangladesh have landed in Indonesia after their boats were left stranded at sea for weeks, according to local reports. Other boats crowded with hundreds of migrants were pushed back to sea despite appeals from aid organisations and the UN refugee agency to rescue them.
Indonesian police said that 794 people were found on a stricken vessel in the middle of the sea and towed ashore in Aceh province by fishermen in two boats. The larger one was brought to the fishing village of Langsa. People told police they were abandoned by smugglers at sea for days and left without food and water, following a Thai crackdown on human trafficking.
The newest arrivals have heightened a humanitarian crisis which saw around 2,000 migrants landing in Malaysia and Indonesia despite official claims that they will not accept any more. Regional governments have refused to engage in search-and-rescue operations, instead repulsing the boats to the sea after providing basic water and food. Phil Robertson of Human Rights Watch Asia accused Thai, Malaysian and Indonesian navies of "playing a three-way game of human ping pong".
Matthew Smith, executive editor of Fortify Rights group, told IBTimes UK the migrant boats are not provided adequate resources before being pushed back to sea. "These governments are mistaken if they think that their duty is just to provide food, water and fuel and just send them back to sea. They have a legal obligation to provide temporary protection to these boats," he said.
Aid workers have warned that up to 8,000 more migrants may be stranded at sea with nowhere to go. "The longer they stay on boats, the more likely they are to face death, preventable diseases and other health problems," Smith said. "That's a completely inhumane and unlawful response from these governments to send these boats back to sea."
Meanwhile, another vessel carrying more than 350 migrants was bound to Malaysia after being pushed back by Thai authorities. The boat, which was found near the southern Thai island of Koh Lipe in the Andaman Sea, is carrying hundreds of migrants who had not eaten or drunk for days. Thai authorities supplied food, water and medicine before towing it back to sea. Passengers said that several people died during the journey.
Fortify Rights have documented numerous deaths at sea for health problems and other reasons. "Passengers are forced to throw dead bodies overboard," Smith said. "There's also the phenomenon of suicide at sea: people reach such level of despondency that they're willing to take their own lives.
Thai Lieutenant Commander Veerapong Nakpraist claimed that the migrants "did not want to come to Thailand" but travel on to Malaysia instead. The local spokesman for the International Organization for Migration (IOM) Jeff Labovitz told IBTimes UK that contrary to the official government line, local Thai authorities offered disembarkation. "Officially they say they are going to push them back, but luckily when the migrants are in humanitarian need, they offer them supplies and even to land in Thai shores. That's good news," he said.
Thai Prime Minister Gen. Prayuth Chan-ocha had said that his government does not have resources to accept refugees.
"If we take them all in, then anyone who wants to come will come freely. I am asking if Thailand will be able to take care of them all. Where will the budget come from?" Prayuth said. "No one wants them. Everyone wants a transit country like us to take responsibility. Is it fair?" he said.
The IOM believes as many as 8,000 migrants are stranded at sea on smugglers' boats between the Andaman Sea and the Straits of Malacca.
Following the discovery last week of dozens of human remains in abandoned smugglers' camps in the south of Thailand, police have launched a crackdown on people smugglers.
That has prompted the human traffickers to bring the Rohingyas offshore, rather than onshore, for fear of being arrested, according to Labovitz.