A fault system in southern California has been mapped in detail, to reveal that it is more extensive and interconnected than realised, and capable of causing larger earthquakes.
The system runs from San Diego Bay to Seal Beach in Orange County, to the Los Angeles basin. Two sections of the fault system had previously been identified as separate faults – the Newport-Inglewood fault and the Rose Canyon fault.
Finer mapping of the region showed that the faults are actually closely connected, according to a study in in the Journal of Geophysical Research.
The connections – or stepovers – between the main parts of the faults are less than 2Km wide. A stepover is a section in between faults where they don't directly meet. The smaller the stepover, the more likely that a rupture of one fault will be able to jump to the next.
If a stepover is more than 3km wide, it can often stop ruptures jumping from fault to fault, which limits the size of the earthquake. The small size of the three stepovers that link four main parts of the Newport-Inglewood and Rose Canyon fault system make them unlikely to be able to stop an earthquake spreading throughout the whole system.

As a result, an earthquake triggered at the fault could reach up to magnitude 7.4.
"This system is mostly offshore but never more than four miles from the San Diego, Orange County, and Los Angeles County coast," said study author Valerie Sahakian in a statement, who did the research as a PhD at the University of California, San Diego, and is now working at the US Geological Survey.
"Even if you have a high 5- or low 6-magnitude earthquake, it can still have a major impact on those regions which are some of the most densely populated in California."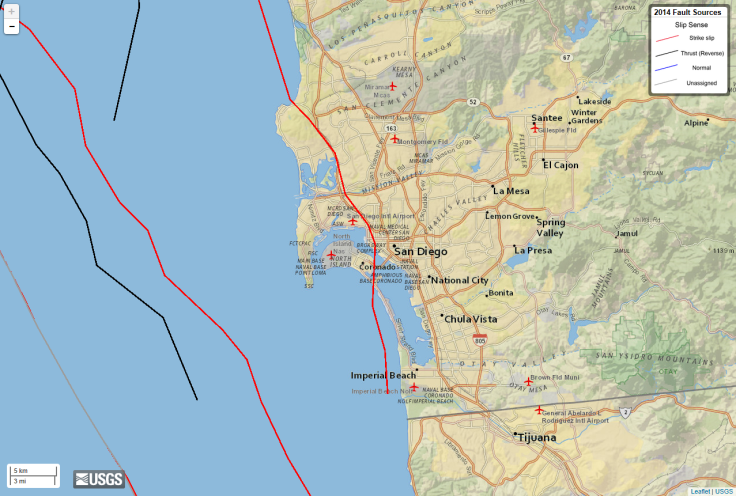 The fault has ruptured before in recent history, although not at such a large scale. The 1933 Long Beach earthquake at the fault was magnitude 6.4, killing 115 people. Geological evidence of ancient earthquakes suggests that the fault has ruptured between three and five times in the past 11,000 years.
The fault system is located to the south of the San Andreas fault, which is believed to be capable of generating very large earthquakes.