Business owners in Brighton have demanded an urgent end to the five-day Southern rail strike, saying the local economy has taken a significant hit in what should be one of the city's busiest weeks of the year.
Brighton Pier management said it suffered as much as a 30% drop in the number of visitors as industrial action between Southern rail and the RMT union entered its second day on Tuesday (9 August), while Brighton and Hove Albion Football Club said it was facing losses of £300,000 and the prospect of the team playing in an empty stadium on Friday (12 August).
Seafront traders also complained of empty deckchairs on the beach and half-empty restaurants despite enjoying what should have been a rare double boost for the tourism economy – hot weather and the school holidays.
The business community joined commuters in venting their anger over what is understood to be the longest planned strike on British railways since 1968. They demanded the two sides get around the table before the loss in business became critical.
Anne Martin, managing director of Brighton Pier, told IBTimes UK: "The strikes have had a huge impact on us," she said. "Our numbers are anywhere between 10 and 30% down. I think you'll find that all businesses are [feeling] some effect. The worst part of it is the uncertainty for the travellers. If they can't rely on the trains then they're not going to come, so even though the trains may run on occasion and to the temporary timetable, people are reluctant to try.
"They really need to sort this out and start talking to each other. And if they can't talk to each other ... then a third party has to get involved. It can't continue any longer."
Hundreds of thousands of passengers faced cancelled or delayed trains as the strike began on Monday, with commuters unable to travel to work on time and tourists avoiding the south-east altogether. The disruption has seen 40% of normal services being cancelled.
Nine months of talks between the owners of Southern rail, Govia Thameslink (GTR), and the RMT had broken down over proposals to change the role of train guards to on-board supervisors. The changes, championed by GTR, would see the train driver take over the guard's current job of closing the doors.
RMT General Secretary Mick Cash said the proposals would be unsafe for passengers and staff who are already suffering "dangerously overcrowded trains". His union called for GTR to match pledges made by ScotRail in a similar dispute.
GTR responded by attacking the strike as "pointless, needless and senseless" and said the RMT had rejected its offers of safeguarding jobs.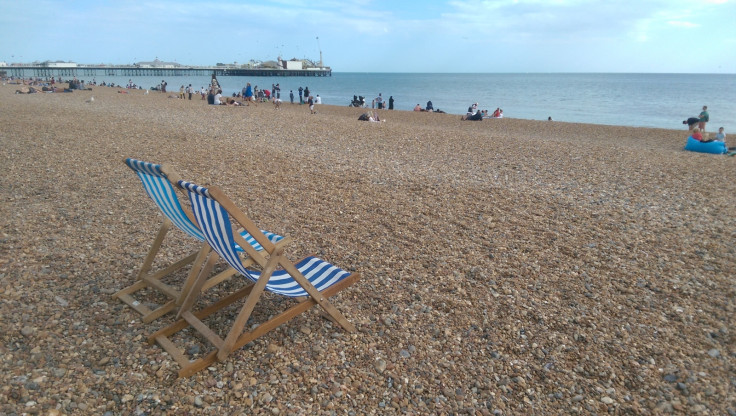 Adam Chinnery, representative of Brighton's Seafront Business Association, and owner of Brighton Watersports, said traders had lost patience with the dispute and complained it was costing businesses during one of the most critical periods of the year for the city's economy.
"I'm looking at the seafront today, and at the empty deckchairs, and looking at the empty cafes – they should be all full," he told IBTimes UK. "We haven't had a brilliant summer so far. This looks like to be the best week of the school holidays, and most of the transportation to Brighton has been disrupted.
"I came [on the train] a couple of days ago before the strike and it was a nightmare. It was about an hour late. The train was so busy that the stations it stopped in, they couldn't pick up any more people ... If that was me coming down from London and I had a couple of kids with me I wouldn't bother.
"[Tourism] is massively important. The seafront businesses here only have the summer to make their money. But their overheads go throughout the year ... And when we lose a week of that through no fault of our own or the weather and through something that actually could be avoided, it's disappointing. I hope they sit round the table and battle it out."
While the impact of stranded Brighton-to-London commuters is estimated by experts to cost the capital as much as £100m by the strike's end on Friday, the industrial action has also had a costly impact on other routes.
Football fans planning to attend Brighton and Hove Albion FC's first home game of the season on Tuesday (9 August) faced a disrupted train service to the stadium. On Friday evening, the team also faces the prospect of playing in a half-empty stadium as they take on Nottingham Forest in the Championship.
Martin Perry, executive director of Brighton Albion FC, said his club faced a loss of £250,000 from low ticket sales, as well as a £50,000 bill for organising extra bus travel and park-and-ride facilities to help as many fans as possible get to the stadium - which is three rail stops out of Brighton and not easily accessible with no train service.
"We're very concerned about loss of revenue because supporters simply won't be able to get here," he told IBTimes UK. "And that will cost us both in ticket sales and money they spend in the bars, in the kiosk, in the shop, on programme sales. So it's a significant drop in revenue.
"The impact on us and on the local economy is huge and surely there is a way of resolving the dispute without affecting so many people in so many different ways.
"[This Friday] is a big match. We'd expect a full stadium and it would be very disappointing if attendances are down. We need to get behind the team and support the team, and this is not helping. I am very surprised [the government] haven't stepped in, frankly. They certainly do have a role and I'm very disappointed that so far there's been no action by the government to get in to try and get this sorted."
On Wednesday, transport campaigners plan to hand a "six-foot letter", signed by Southern passengers, to new Rail Minister Paul Maynard, urging him to "listen to passengers, freeze fares and pay compensation". It said people had become "fed up" with the Southern rail service, which had been suffering delays to services long before this week's strikes.
RMT members also plan to protest outside the Department for Transport on the same day after claiming ministers implemented a "blockade" on a potential breakthrough deal with GTR.
GTR has since invited the RMT union to talks "any time, any place, anywhere" in a bid to end the dispute.
But things in Brighton could get worse before they get better. The city faces up to five other strikes on its transport network in the coming months, including by train drivers, platform staff, engineers and bus drivers.
Traders fear this year could be a lost summer for the local economy unless disputes are resolved soon.