Authorities in the resort of Magaluf on the Spanish island of Mallorca (also known as Majorca) are to introduce new £500 fines for tourists who strip off in public in a bid to restore the town's reputation.
Many of those who descend on Magaluf each year are Britons who have become notorious for bawdy and violent behaviour, often as a result of heavy drinking.
From Tuesday (9 June) anyone who commits one of a range of acts including balcony hopping, skinny-dipping or urinating in public faces being fined up to £500.
Many locals in the resort have become sickened by the antics of tourists, such as the video circulating last year in which a teenage British woman performed sex acts on 24 men to win a cocktail.
In the resort a number of deaths have been attributed to a craze known as "balconing", where tourists hop from one balcony to another or from a great height into a swimming pool. Three holidaymakers died in two months in 2012. Now anyone caught balconing will also be prosecuted and could be fined up to €1,500 (£1,000).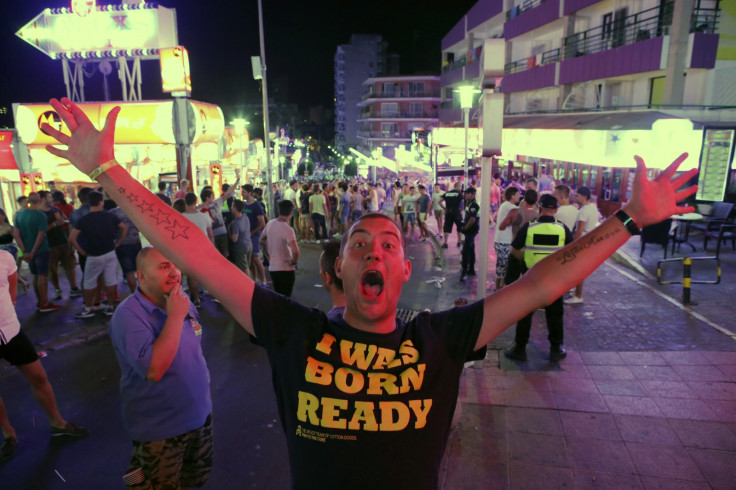 Britain's Spanish ambassador Simon Manley told the Mirror: "We want British visitors to Magaluf to enjoy themselves, as they do elsewhere in Spain. But we also want them to stay safe and to respect the laws and customs of Spain. We work closely with the local authorities in Mallorca and we welcome any measures that they can take to support those aims."
Under the new laws, anyone participating in a pub crawl must also wear a special uniform, and numbers will be limited to 20 per pub crawl along with two minders trained in first aid.
Spain's Secretary of State for Tourism Isabel Borrego said: "The Spanish government strongly supports the new regulations passed by Calvia Council.
"They will foster a new framework in which all international tourists can fully enjoy their holidays in Spain in a manner that is responsible both for themselves and the destination."
However not all locals were convinced the new laws would be enforceable. Editor of the Majorca Daily Bulletin Jason Moore told The Independent: "Every year a crackdown is promised but nothing is done, and 36 coppers working a street that at any one time has 2,000 people aren't going to have much effect."