Police in Spain seized more than 10,000 guns from an organised crime group which was selling weapons throughout Europe.
The haul includes assault rifles, machine guns, pistols, revolvers, and 400 shells and grenades.
The weapons and ammunition were seized in an anti-guns trafficking operation in January. Investigators found a workshop near Bilbao set up to reactivate weapons.
The haul had a market value of up to €10m (£8.7m). Five people were arrested as part of the operation.
Cash amounting to €80,000 was seized. The operation involved counter-terror police from Madrid, Bilbao, Valencia and Gerona.
Europol, which assisted with the operation, said the firearms were sold in Spain, France and Belgium.
Investigators linked the find to the investigation into the attack on the Jewish museum in Brussels by an Islamic extremist in 2014 in which four people were killed.
The gang acquired the weapons legally through auctions and online vendors before reactivating them. They had been using a sports shop as a front for its distribution centre, which in reality sold firearms, weapon components and ammunition.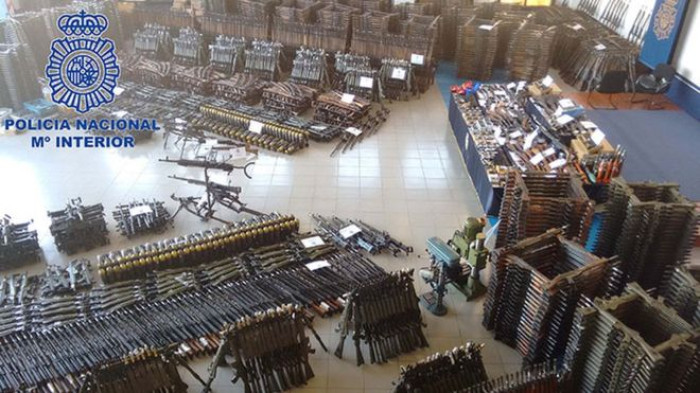 Police said the guns could easily have been acquired by terrorists and organised crime gangs.
Europol said that criminals exploited legislatives differences between EU countries to acquire firearms legally which could be converted to fire live rounds.
The agency said there had been an increase in the number of reactivated weapons entering the black market in recent years.