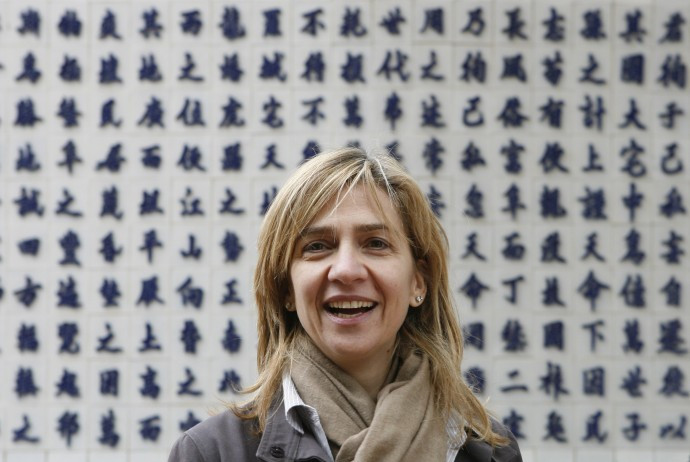 A Palma de Mallorca court has confirmed charges of money laundering and fraud against Princess Cristina, daughter of former King Juan Carlos, who abdicated last month for his son, the new King Felipe VI.
The graft case involving Infanta Cristina, 49, dogged the end of her 76-year-old father Juan Carlos's reign. Cristina de Borbon and her husband Inaki Urdangarin, a 46-year-old former Olympic handball player, are involved in an ongoing investigation into a multi-million euro fraud and money-laundering case.
In February Infanta Cristina was questioned in court in connection to a scandal involving her husband's business dealings.
Urdangarin is alleged to have defrauded regional governments of million of euros of public money, although both denied any wrongdoing and were not charged.
The allegations began in 2010, related to a supposedly not-for profit organisation called Noos of which Urdangarin was president. The foundation staged sporting events for the regional governments of the Balearic Islands and Valencia, which Urdangarin is accused of organising at hugely inflated prices.
With his former business partner, Urandagarin is alleged to have received a total of 5.6m euros (£4.6m) in public money.
Jose Castro, the judge, recommended charges of money laundering and fraud to be brought against Cristina and her husband and 16 out of 32 other people.
A final decision on whether to put the suspects on trial will only be taken by the Palma de Mallorca provincial court after considering any appeals.
The case was the first time in history that a member of Spain's royal family has appeared in court as the subject of a criminal investigation. Many believe the long-running, widely-publicised case caused significant damage to the credibility and reputation of the Spanish royal family.
Spain's royal household admitted the case had tarnished the monarchy's popularity.