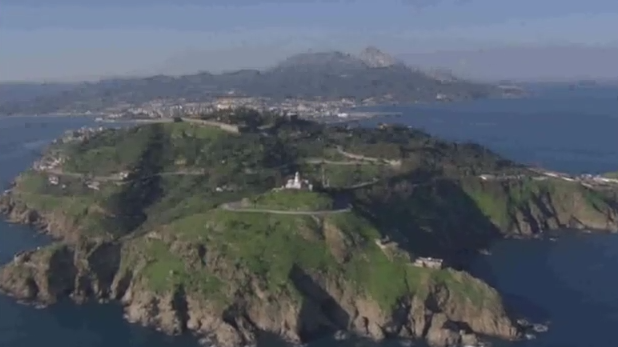 Spain's Ministry of the Interior has published a video it said exonerates border police from blame for the shooting of Moroccan asylum-seekers who were trying to swim to Spain's north African enclave of Ceuta.
At least 15 would-be immigrants died as they tried to swim from Moroccan into Spanish territorial waters and police opened fire. The dead were among 200 Moroccans who were trying to get into Cueta by sea.
A video was handed to authorities by Ceuta's Civil Guards along with an explanatory commentary by their chief, Fernando Cubillo. The video was released in response to accusations of police misconduct made by a group of NGOs who had filed an official complaint with Spain's General Prosecutor's Office.
According to Civil Guards, the video shows sub-Saharan would-be immigrants acting aggressively while attempting to cross the border - by land.
But critics complained that the footage does not show the Civil Guard response to the would-be "invasion" by water, which resulted in the deaths of the 15 asylum-seekers.
Cubillo only briefly explained what happened in the footage, without providing enough details, Spanish news site La Vanguardia said.
All the immigrants "who were in Spanish waters managed to reach the coast, while others were rescued by the Marine Service patrol boat and guards who were patrolling along the beach," Cubillo continued.
"None of the immigrants suffered any injuries," Cubillo concluded.
Critics claim that the footage left many questions about police conduct unanswered, as the video did not show the sea crossing by the asylum seekers or the build-up to the tragedy shows and instead focused on an entirely separate event.
High-ranking Civil Guard officers concealed the fact that rubber bullets were used against the migrants as they jumped into the water at Tarajal beach. In reports drawn up after the event, officials left out any mention of firing the weapons into the sea, according to Spanish newspaper El Pais.
Despite the death toll, the director of the Civil Guard, Arsenio Fernández de Mesa, described the action of his officers as "impeccable".
Fernández attacked critics for failing to understand the circumstances in which his officers had been working.
Local MP Francisco Antonio González said that bullets were used only to dissuade and were aimed only at asylum-seekers on land and not at those in the water.
He went on to describe the would-be immigrants as "very violent" and said they "threw stones, resulting in light injuries plus damage to vehicles and a guardhouse". Their actions were shown in the submitted video.
In Madrid, the opposition Socialist Party accused de Mesa of lying. Izquierda Plural, a coalition of leftwing and green parties, called for interior minister Jorge Fernández Díaz to step down over the incident.