The Spanish coast guard has released pictures showing 314 migrants overcrowded on a boat which was only suitable for around 6 people. The 107 children, 51 women and 156 men were in danger of drowning if the boat capsized because of the heavy weight.
The pictures were taken by the Spanish Air Service of the Civil Guard when one of their patrol planes detected the small ship on the night of 6 April. The aircraft is involved in the 2016 Triton operation of the European Agency for the Management of External Borders.
The rescue was also coordinated with the assistance of two patrol boats of the Italian Coast Guard, with all migrants safely rescued. "We were told that a boat with people of African nationalities on board was in trouble off Ghout Rumman," coastguard Colonel Ashraf al-Badri said according to AFP.
"We found the boat and rescued the migrants," he added, saying that the boat was ferrying about 115 people from Mali and other African countries.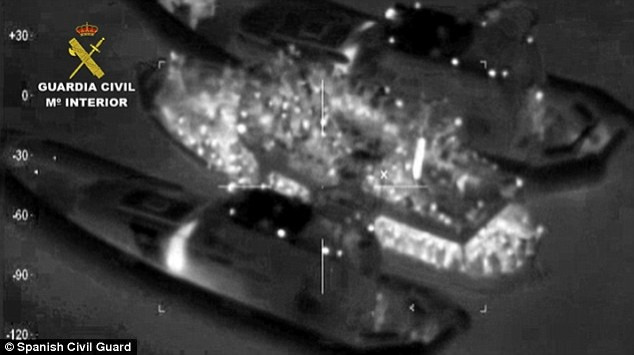 UN refugee agency staff gave the migrants some first aid as well as food and clothes. The refugees were then taken to detention centres in Tripoli. Libya has been used as a crossing point for migrants seeking entry into Europe, with Italy around 185 miles away across the Mediterranean Sea.
On Monday, Italy's coast guard assisted with the rescue of 1,850 asylum seekers from ships in distress in eight separate operations in the Strait of Sicily. The rescues involved a the coastguard, the Navy, a merchant marine ship, and a vessel from the EU EUNAVFOR Med mission to combat people traffickers. Smugglers have increased their lucrative business of human trafficking in the chaos following the 2011 ousting of dictator Muammar Gaddafi.
The asylum seekers were rescued off at least eight different boats, including inflatables, according to Italian website ANSA.
This case highlights the continuing plight of refugees despite a European Union deal to deport new arrivals back to Turkey. More than 53,000 refugees remain stranded in Greece.