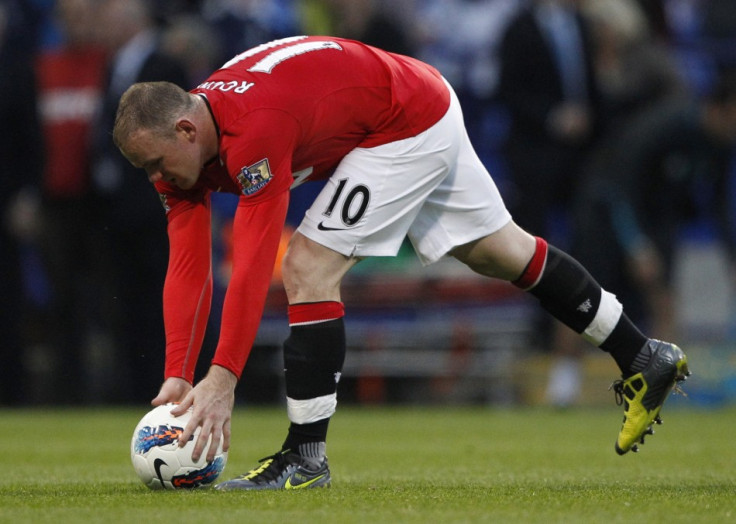 According to reports in Spain, Real Madrid are preparing an audacious bid for Manchester United striker Wayne Rooney.
El Economista claim Real Madrid president Florentino Perez and Jose Mourinho have begun discussing the possibility of luring the aforementioned Manchester United talisman to the Bernabeu next summer.
The hugely speculative report intimates the duo are said to be devising a suitably attractive financial package that would convince Manchester United boss Sir Alex Ferguson into parting with Old Trafford's most prized asset.
Real Madrid coach Jose Mourinho, who has been regularly mentioned as one of the leading candidates to succeed Ferguson as Manchester United's next manager, is unsurprisingly said to be a big admirer of a player widely regarded as one of the Premier League's best, and would welcome his side's endeavours to sign the England international.
Manchester United memorably sold Cristiano Ronaldo to Real Madrid when the Portuguese ace was at the peak of his powers, and El Economista suggests a similar scenario could be in the offing in regards to Rooney.
A year prior to selling the former World and European Player of the Year for a world record £80 million in 2009 and following some less than subtle pleas by Ronaldo to engineer his exit, Ferguson unforgettably dismissed Real Madrid's intentions to sign his star player.
On being informed of Real Madrid's reputed advances, the Scot remarked: "Do you think I would get into a contract with that mob. Jesus Christ, no chance,
"I wouldn't sell them a virus."
Whilst Manchester United eventually negotiated a deal to sell Ronaldo to "that mob", it was very much a move based on the Portugal international's desire to play in Spain, and Ferguson is extremely unlikely to entertain any bids for Rooney.
The Scot memorably displayed his famed man-management skills in the aftermath of Rooney's shock transfer request in October last year. His star striker rocked the footballing world when he publicly lambasted the state of Manchester United's playing personnel and stated his desire to leave Old Trafford amid rumoured interest from Manchester City.
Ferguson, displaying an authority that has epitomised his 25-years as Manchester United manager, famously responded by turning the tables on his want-away star which eventually culminated in Rooney's swift about turn.
"We cannot quite understand why he would want to leave. No-one can deny this club is one of the most successful in British football." Ferguson told a press conference on 19th October 2010.
"We have won 40 major trophies, countless cup finals, have a fantastic history, a great stadium, great training arrangements.
"We don't understand it. I can't answer any questions about why he is doing it. We can speculate. We can have opinions. It won't matter a dickie-bird, simply because the player is adamant he wants to leave."
Three days later, Rooney famously signed a new long term contract stating his belief in the Manchester United manager and squad remained undiminished.
"I'm delighted to sign another deal at United. I've spoken to the manager and the owners and they've convinced me this is where I belong." The former Everton prodigy read in a statement.
"I am signing a new deal in the absolute belief that the management, coaching staff, board and owners are totally committed to making sure United maintains its proud winning history - which is the reason I joined the club in the first place.
"I am sure the fans over the last week have felt let down by what they have read and seen.
"But my position was from concern over the future.
"The fans have been brilliant with me since I arrived and it's up to me through my performances to win them over again."
Since Wayne Rooney's well-publicised problems at the beginning of last season, he has re-established himself as the focal point of Manchester United's recent successes.
His form during the latter stages of last season, when he struck up a brilliant striker partnership with Javier Hernandez, was integral to United's recapturing of the Premier League title and their run to the Champions League final.
Rooney was again the catalyst to their blistering form at the beginning of this season, and although he has recently been deployed in central midfield, the 25-year-old has been no less influential.
With little under four years remaining on his current deal, Manchester United will be in no rush to address rumoured interest in their player and only last month Rooney suggested it would be a "great honour" to captain the club on a full-time basis.
The Manchester United striker is the latest name linked with Real Madrid following recent reports purporting to their alleged desire to sign Arsenal striker Robin Van Persie. Fernando Llorente of Athletic Bilbao and Manchester City's Carlos Tevez have also been linked.