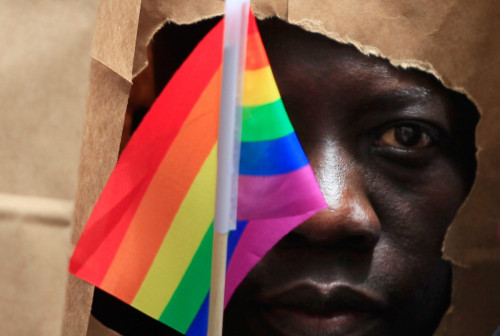 Uganda's prime minister Amama Mbabazi has conceded that while homosexuals are "abnormal" they should not be killed or imprisoned for life.
On 20 December the country's parliament passed the Anti-Homosexuality Bill, which extends the current penalty of life imprisonment for anal sex to all other same-sex acts, including kissing and touching.
Mbabazi has now said LGBT people "need help" and should not be killed or jailed for life.
"I think in our tradition homosexuality is treated as an abnormality," he said. "Given that as a fact, the next question is how do we treat abnormalities in our society? Do we kill them?
"If you identify an abnormality and you say 'Let's kill homos', then my conclusion is that you are the one that is abnormal," he carried on. "They need help. How do you treat your children who are born as mongols? Do you execute them, imprison them for life?"
Originally introduced by David Bahati in 2009, the Ugandan bill presents jail terms of five to seven years for promoting homosexuality and life prison sentence for "aggravated homosexuality", which includes acts committed with children, by HIV-positive individuals, or by authority figures.
In its original form, the bill carried the death penalty for certain homosexual acts.
It was temporarily dropped during 2011, after an international outcry that followed the brutal murder of gay activist David Kato.
After being passed in parliament the bill needs to be signed by president Yoweri Museveni - who may fear an international outcry and pullout of foreign aid if the bill is not amended.
"I like thinking before acting. This is not a simple matter, which I can just rush into. If the MPs bring the bill to me, I will first analyse it ... and see how to handle it," he said according to state-owned New Vision newspaper.
British LGBT activist Peter Tatchell has planned a protest next Wednesday outside the London Uganda High Commission to call on Museveni not to sign the "new homophobic legislation".
Tatchell, who is leading the protest along with the African LGBTI Out & Proud Diamond Group, argues that the Anti-Homosexuality Bill "violates the Ugandan constitution, Commonwealth Charter and the African Charter on Human & People's Rights to which Uganda is a signatory".
"This Bill is creating an atmosphere of hate and violence, including mob beatings of suspected LGBT people. Much of this bigotry is fuelled by anti-gay Christian fundamentalists who are supported by right-wing evangelical pastors in the US," Tatchell said.
"This bill is in some respects even more draconian than the extreme homophobic laws of countries like Saudi Arabia and Iran."