A report from Deadline has revealed Sony Pictures' plans to release a female superhero movie in 2017, as well as news that Carnage will star alongside Venom in the popular anti-hero's spin-off movie.
Last month Sony delayed The Amazing Spider-Man 3 by two years until 2018, which Deadline reports is part of an over-arching plan to revamp their superhero franchise.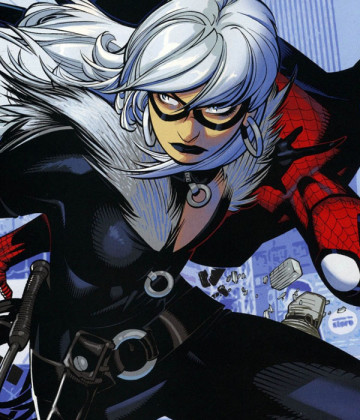 It will start in November 2016 with a spin-off focused on villain troupe the Sinister Six, with Drew Goddard on board as writer and director. Following that is the freshly announced spin-off focusing on a female hero.
The most obvious candidate for who that her might be is Felecia Hardy, aka Black Cat, the unassuming side of whom was introduced in The Amazing Spider-Man 2 earlier this year, played by Felicity Jones.
Silver Sable is another potential candidate, being the most popular female character in the Spidey universe who Sony will have the rights to.
At the bottom of Deadline's report is a mention of the Venom spin-off, which they have heard will be called Venom Carnage – which if true would confirm the existence of popular villain Carnage in the movie alongside anti-hero Venom.
Venom and Carnage squaring off certainly makes sense as it was unlikely Venom would be portrayed purely as a villain in his own film, and Carnage – being of similar alien symbiote origins – is his natural nemesis.
Alex Kurtzman and Ed Solomon are currently writing the script with Kurtzman also on board to direct for release in 2017.
Deadline's report also includes a mention of a Spider-Man reboot to land in four years time, though we suspect it wouldn't be a reboot in the traditional sense but a soft-reboot with the principal cast still in place and a re-introduction.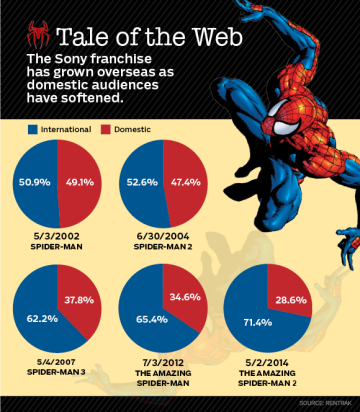 Their report reads: "The fact is that Sony has produced five Spider-Man movies in 12 years. So one question is obvious: How can there be much anticipation from audiences to see another one again so quickly?
"You could call it Spider-Man fatigue.
"Makes a lot of sense to give it a rest and then bring it back again in four years revamped, re-suited and rebooted for a new generation of kids. The studio is also clearly responding to the fact that the domestic audience for Spider-Man has continued to shrink over the years."
Relating to the subject of shrinking domestic (US) audiences, Deadline created the graph on the left.