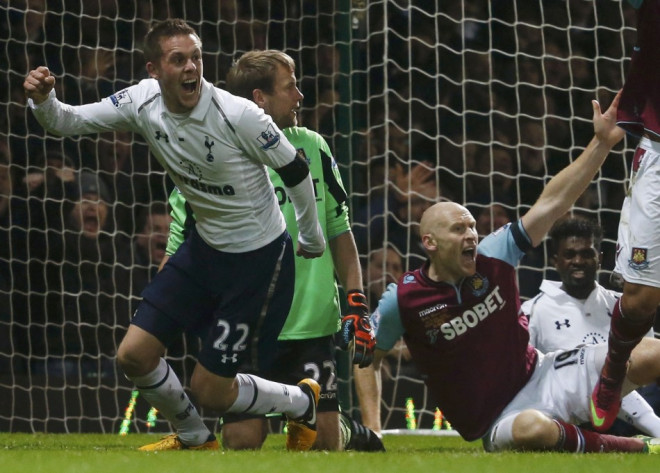 Tottenham midfielder Gylfi Sigurdsson has claimed that Spurs need to secure at least a point against Liverpool after the Reds beat them 5-0 earlier this season at White Hart Lane, a result which brought the sacking of Andre Villas-Boas.
Spurs will travel to Anfield on Sunday in a crucial game as they battle to secure Champions League football next season.
After their latest victory over Southampton, Tim Sherwood's side are sixth in the Premier League table, seven points behind Arsenal, who are currently sitting in fourth place.
Sigurdsson still believes Spurs can reach their target, and suggests that getting one point from Anfield would be enough.
"It's important for us to get at least one point at Anfield, if not three, especially given the way we lost to them last time," Sigurdsson told the Evening Standard.
"The key for Liverpool has been the form of Daniel Sturridge and Luis Suarez. The way they have been playing is a result of the goals they have been scoring, which give the team a lot of confidence. Brendan Rodgers has them playing very well," he added.
"We're on a mission now to get as many points as we can. We lost at home to Arsenal but we deserved more and we were unlucky to go out of the Europa League after the second leg against Benfica [where Spurs drew 2-2]. Now we're out of Europe, we'll be a bit fresher and we'll have a bit more energy in games. It will help us get a few more points."
Meanwhile, Sigurdsson admits that not finishing in the top four would constitute a failure.
"It will be a disappointment if we don't finish higher than fifth. We brought a lot of players in last summer and we know it's going to take time," he said.
"It depends on some of the players coming in — some of them fit in straight away, some need a few months or a season just to get used to English football. That's life. If we can finish in the top four, it will be fantastic."
Furthermore, he urges Sherwood to keep him in a central position, claiming that he doesn't feel comfortable at all on the flank.
"It's nice when I get a chance in midfield. That's where I prefer to play, rather than on the left wing. I'm happier in the middle or just behind the striker," he said.
"I'm not the quickest player in the league so on the left wing I probably won't be running past every full-back, so it's better when I'm in midfield.
"It takes time to recover from heavy defeats, like the 4-0 at Chelsea earlier this month, but we've shown a reasonably good spirit since then."