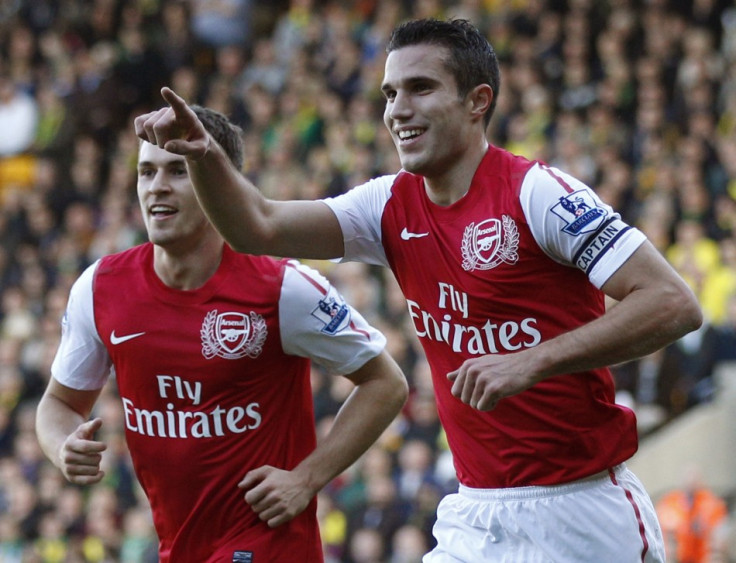 Arsenal star Robin Van Persie is currently "unplayable" according to former Tottenham Hotspur striker Garth Crooks.
The prolific Netherlands international has netted a staggering 31 Premier League goals in 29 appearances for Arsenal in the last calendar year, and scored a superbly taken brace against Norwich City on Saturday to earn a ringing endorsement from the former Tottenham striker turned football pundit Crooks.
The aforementioned ex-Spurs striker, whose goals for Tottenham between 1980 and 1985 help yield the club two FA Cups and the 1984 UEFA Cup, believes the Arsenal captain's form, with 13 goals in 12 games this season, and ten in his last five, is "imperious".
Crooks, who was awarded an OBE in 1999, believes Arsene Wenger's recent comments regarding his Arsenal future, which have perhaps been misconstrued by the British press, illustrate how important the Dutchman is to the Frenchman and his north London Premier League club.
"Well, I can't have a team of the week these days without it including Van the Man." Crooks wrote in his Premier League team of the week column for the BBC.
"He is in such imperious form at the moment he seems unplayable at times.
He added: "I wonder how much Arsenal boss Arsene Wenger's remarks on Saturday were a veiled threat to the Arsenal board that if they fail to keep the Dutchman, as his contract comes to an end, he might be off too.
"That would take the wheels of the Gunners' carriage."
Despite Van Persie's scintillating performances in 2011, the long-serving Arsenal forward was strangely omitted from FIFA's 2011 Ballon d'Or shortlist.
The oversight seems particularly odd given his brace against Norwich City took his tally beyond the 30-goal mark for a calendar year, joining Alan Shearer, Ruud van Nistelrooy, Thierry Henry and Les Ferdinand as the players to match that feat.
Although he was snubbed by FIFA, Van Persie's worth is obviously recognised by his Arsenal colleagues. In the aftermath of their keenly fought victory, Theo Walcott, who it must be noted is playing exceptionally well too, suggested Van Persie was amongst the very best strikers in world football.
"We are playing beautiful football and the likes of Robin up front make our jobs so much easier," Walcott told the BBC.
"He is one of the best strikers in the world at the moment and we just love playing together. But it's not just Robin. The whole team is gelling. There's a lot of players in form."