Adisada Dudic was six when more than 8,000 Muslim men and boys were executed in the fields surrounding her hometown of Srebrenica. She is a witness to the worst massacre on European soil since the Second World War.
Twenty years on, Dudic's memory of leaving Bosnia when the war broke out in April 1992 is still vivid. "My father loaded my pregnant mother, myself and my sisters on to trucks for women and children," she says. Dudic remembers her father crying when they said goodbye. "He stayed behind in Srebrenica but we were to go as far away as possible. We travelled for nine days – mostly at night – until we reached a refugee camp in Ljubljana, Slovenia."
The day after they arrived at the camp, after travelling over 550km through Croatia, Dudic's mother went into labour. "She was rushed to the hospital and delivered my baby sister the next day," she says. Nobody knew how long they would have to stay at the camp but many believed the situation in Bosnia would be diffused in a matter of weeks.
"Although we were very young, little by little we began to understand there was a war at home in Bosnia," Dudic says. "As weeks turned into months and months turned into years, we realised it was serious and we might not see my father again."
As the Bosnian Serb army – with the assistance of the Yugoslav army and Serbian paramilitary groups – began a drive to ethnically cleanse non-Serbian inhabitants from eastern Bosnia from April and May 1992, information in the Slovenian camp remained limited. Dudic recalls hearing news of the death of an unnamed man who had four daughters in Srebrenica.
"There weren't many men who had four daughters in our community, so we believed it was my dad," she says. It wasn't confirmed until weeks later that the victim was not Dudic's father.
Dudic, her mother and three sisters continually faced the possibility – the reality – of losing loved ones who remained in Bosnia. During their three years in the camp, she lost two grandfathers and her grandmother was killed by a grenade.
"As a child it didn't make any sense, but I remember the fear I would lose my father," Dudic says. "My mother told me I kept asking her why he wasn't there. Most of the camp were women and children, but I still asked why my father wasn't there."
"Now, as an adult, I feel guilty for putting such pressure on my mother and asking her those questions because I understand how difficult it was for her. She was my age now with four girls under the age of seven in a strange land. She had spent all her life in a small village just outside of Srebrenica. I can't imagine the trauma she was going through."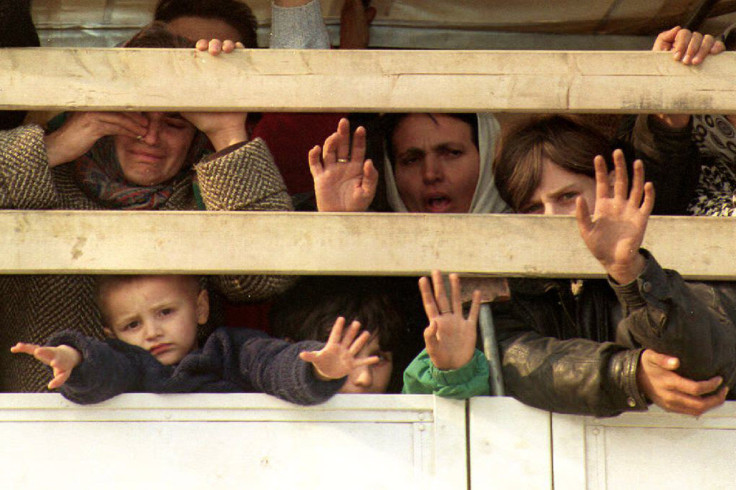 Fall of Srebrenica
Dudic and her family returned to Bosnia after three years in the Ljubljana refugee camp. Her father survived and was reunited with his youngest daughter, then aged three, who he had never met. The family moved to an apartment in Tuzla, a city north of the UN-designated "safe area" of Srebrenica.
Three months later, Bosnian Serbs laid siege to Srebrenica. Shelling began shortly after 3am on 6 July and lasted for 12 hours. It resumed the next day at noon.
"We walked through rivers to cross the border into Bosnia. A few months later, Srebrenica fell," Dudic says.
By 9 July, most civilians living in the outskirts of the town had flooded into the town centre as the forces closed in. Roughly 26,000 people were now living in an area where only 4,000 had lived before the war.
Buses arrived to take Bosniak women and children to Bosnian-held territory, but two days later the men were rounded up. Some were beaten or killed, while many of the women who remained behind were raped. Survivors recall columns of men moving out of villages near Srebrenica at night to escape the mass executions.
"We lost over 50 members of our family in July 1995," Dudic says. Some relatives managed to escape to their apartment in Tuzla, while others hid in the forest surrounding Srebrenica as they tried to reach safety.
"One of our uncles spent three months in the woodland, hiding and eating what he could find. I remember women and children on buses being deported from the area and they were completely traumatised. These are the kinds of images that stay in my head always," Dudic says.
The body of her uncle was never recovered. "We think he tried to escape but was shot and buried in a mass grave," she says. "My mother's brother had two children, who are now in their twenties, so they have lived their lives not only without a father, but without knowing what happened to him. Twenty years on, we don't have that closure."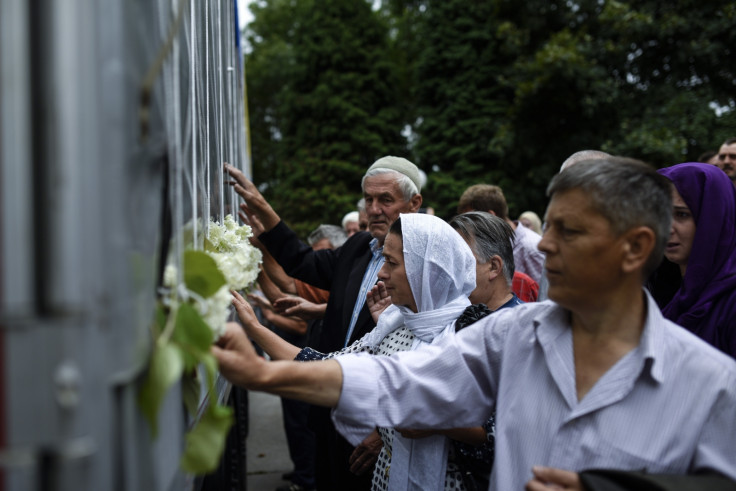 Denial and reconciliation
Many families have been unable to bury their dead. After the Srebrenica genocide, Bosnian Serb leaders ordered the original graves to be dug up and the bodies reburied in secondary locations to conceal the crime. The International Commission on Missing Persons told IBTimes UK that 6,930 victims have been identified as of June 2015. Relatives of the missing still scour the surrounding woodland for bones.
Other barriers remain in place against reconciliation. Although Srebrenica has been recognised as a genocide by the International Criminal Tribunal for the former Yugoslavia and the International Court of Justice, genocide denial continues to hinder chances of restoring relations in what remains a divided nation.
In 1995, the Dayton peace agreement was signed, which ended the bloodshed in Bosnia, but cemented ethnic divisions. The country was split into two political entities: the Federation of Bosnia and Herzegovina, inhabited mainly by Bosniaks and Bosnian Croats, and Republika Srpska, the "Serb Republic". Milorad Dodik, president of Republika Srpska – where Srebrenica is situated – is a staunch denier that the massacre constituted a genocide.
Shortly after he was elected in 2010, he accused the international community of imposing "responsibility for the genocide – which did not happen – on an entire nation, and to keep quiet and intimidate all those who have a different understanding about the crime which happened in Srebrenica".
On the 20<sup>th anniversary of the massacre this week, Russia, a traditional ally of Serbia, vetoed a UK-written draft of a UN resolution that referred to the massacre as a genocide over 30 times. Russia's UN representative Vitaly Churkin called the document "not constructive, confrontational and politically motivated", arguing it unfairly placed the sole blame on Bosnian Serbs for war crimes.
This denial reopens wounds for survivors, Dudic says. "People still say the Srebrenica story is all made up, that it is a lie and numbers are exaggerated," she says. "You are basically telling people who watched their loved ones die that the person they buried never existed. That their life never mattered. That kind of insult is what victimises the survivors to this day – an unapologetic dismissal of their pain.
"People just want their grief to be acknowledged and for the crime to be called its proper name. There are so many lessons we can learn so we don't allow this to happen again elsewhere. I wouldn't want the lessons to be learnt from Srebrenica to die with the victims."