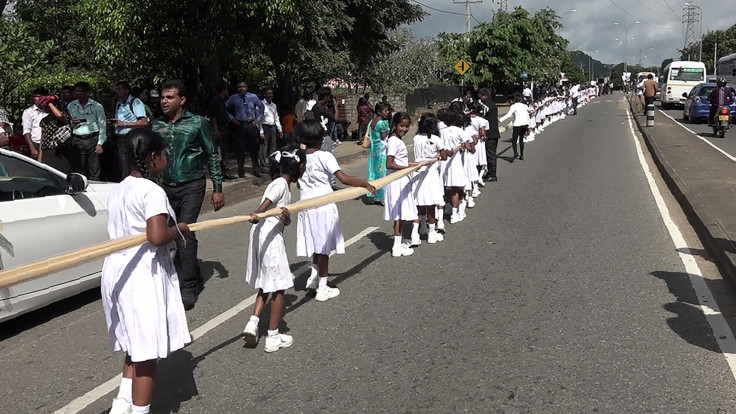 A couple in Sri Lanka are being investigated for allegedly deploying at least 250 school children to carry the train of the two-mile wedding saree of the bride. The saree is a garment traditionally worn by women in South Asia and usually varies in length from five to nine yards.
The incident took place in the island nation's central district of Kandy. The couple who apparently wanted to make their wedding memorable and were aspiring to set a Guinness world record for the longest saree got the students of a state-owned school to carry the train of the garment as the duo walked down a main road, AFP reported.
The students were reportedly from the school named after Central Province Chief Minister Sarath Ekanayaka, who was one of the chief guests at the wedding. The road march was apparently organised by a beautician of the area.
Meanwhile, an investigation has been launched into the incident by the National Child Protection Authority (NCPA) after teachers union criticised the incident and demanded strict action against those who were involved.
"We are going all out because we don't want this to become a trend," NCPA chairman Marini de Livera said.
De Livera added that making children do such activities during school hours was a serious violation of the law and could land the accused in jail for 10 years.
"What they (the wedding party) did is a violation of child rights. Depriving children of education, risking their security and harming their dignity are criminal offences," the chairman of NCPA told AFP.