The election was chaotic, the re-election was chaotic, and the inauguration ceremony for Kenyan President Uhuru Kenyatta got off to a chaotic start.
Police used tear gas to push back Kenyatta supporters to prevent them from entering the 60,000-capacity Kasarani Stadium, even though four stands behind the VIP area were kept empty. Some supporters were left unconscious after police on horseback used batons to beat back an attempt to break through a barrier.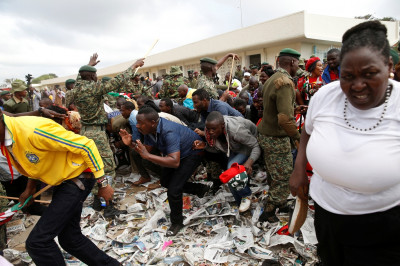 Kenyatta won a second five-year term on 26 October in a repeat presidential election boycotted by opposition leader Raila Odinga, who said it would not be free and fair. The Supreme Court nullified the first presidential election, in August, over irregularities.
Heads of state from Somalia, Rwanda, Uganda, South Sudan, Ethiopia, Djibouti, Zambia and other nations attended the inauguration ceremony.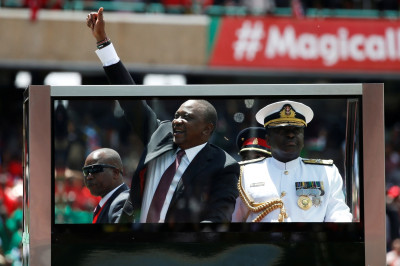 Elsewhere in Nairobi, police patrolled the Jacaranda grounds where the leading opposition group, the National Super Alliance, had urged supporters to gather to remember those killed in post-election protests since August. A Reuters team at the scene of the planned rally said the area had been sealed off by seven truck loads of police in riot gear. Two water cannons were standing by and a helicopter hovered overhead.
Police began firing teargas in nearby residential areas two hours before the rally was due to start, apparently attempting to prevent opposition supporters from gathering. Several roads were blocked by burning tyres, rocks, glass and uprooted billboards. Police shot in the air to disperse anyone trying to gather. Dennis Onyango, a spokesman for Odinga, told Reuters on Tuesday morning they were still planning to hold the rally.
More than 70 people have been killed in political violence this election season, mostly by the police.