'Stand up to Russia': Joe Biden tells Ukraine in last international visit
The US vice-president was on his sixth visit to Ukraine since the Euromaidan protests.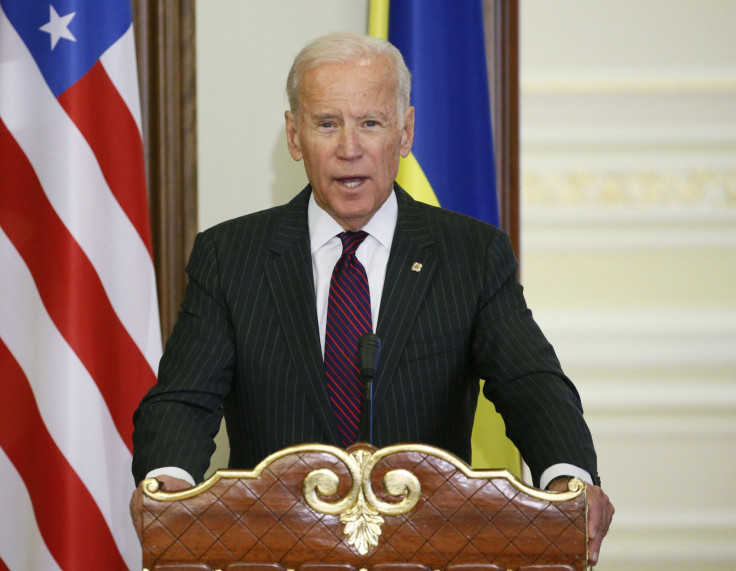 In his final official visit to a foreign government, US Vice-President Joe Biden has told reporters in Kiev that the "international community" must resist Russian aggression and issued a plea to the incoming US administration to help Ukraine tackle the threat it faces from its neighbour.
Standing next to Ukrainian president Petro Poroshenko, Biden said: "You're fighting both the cancer of corruption... and the unrelenting aggression of the Kremlin."
Since the Euromaidan protests in 2013 and 2014 that led to the ousting of Viktor Yanukovych from the presidency, Biden has visited Kiev six times, and he said that sanctions against Russia for seizing Crimea must stay in place until Moscow follows the terms of the Minsk accords peace deal.
President-elect Donald Trump suggested that the US should end its sanctions against Russia if Moscow were to agree to a deal to cut nuclear weapons and that he wanted the nuclear arsenals of the United States and Russia to be "reduced very substantially".
Biden said, according to Reuters: "The international community must continue to stand as one against Russian coercion and aggression. It is Ukraine's best hope to move forward as a united country."
The conflict in the eastern Donbas region has claimed 10,000 lives and there are daily reports of shelling and mortar fire on both sides.
Meanwhile, a debate has been raging in the country after Ukrainian oligarch Viktor Pinchuk called on Kiev to accept the annexation of Crimea as part of a series of "painful compromises" for peace with Russia. He also said Kiev should also abandon, in the medium-term, any chance of joining the European Union or Nato if it wants to see peace in Donbas.
"We should also make clear that we are ready to accept an incremental rollback of sanctions on Russia as we move toward a solution for a free, united, peaceful and secure Ukraine," he wrote in the Wall Street Journal.
"The Ukrainian lives that will be saved are worth the painful compromises I have proposed," he added.
However Euromaidan Press described that there was a "concerted media campaign" to make Ukrainians accept their country without Crimea and the Donbas "which might bring painful consequences to Ukraine and the West alike".
It said that appeasing Russia would further embolden Moscow, spark protests in Ukraine and "provoke a spillover effect of illegal annexations and interventions in many other parts of the world".
© Copyright IBTimes 2023. All rights reserved.