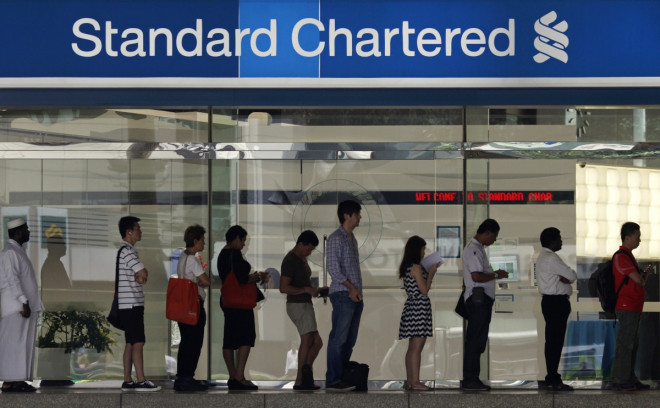 Standard Chartered suffered its worst profit performance for a decade during 2013 amid a slowdown in some of its key emerging markets businesses.
The bank's pre-tax profit dropped to $6.96bn (£4.17bn, €5bn) for the year, down 7%. It is the first time profit has fallen in ten years. Around 90% of Standard Chartered's profit is made in Asia, Africa and the Middle East.
There was particular weakness in the bank's South Korean operations, where profit was down $350m to an overall loss of $12m because of weak consumer banking revenues. As a result, the bank is shrinking its Korean business.
Following the profit drop, Standard Chartered's total bonus pool was slashed by 15%. The bonus for Chief Executive Peter Sands has reportedly been halved to $1m.
"In 2013, Standard Chartered faced margin pressures in a number of key businesses and markets," said Sands.
"Regulatory requirements and the bank levy put upward pressure on costs. Various factors drove a sharp increase in unsecured loan impairment.
"A much more negative sentiment towards emerging markets affected valuations and transaction flows in Wholesale Banking. We also had to take a goodwill impairment on our business in Korea, given the severity of the challenges facing us and the industry as a whole in that market.
"As a result, we slipped from our trajectory of record income and profits, posting lower income and profits for the first time in over a decade. Our share price fell, reflecting both our own performance and investor sentiment towards our markets."
Sands added that the bank is being stricter with its spending and headcount in order to manage costs, as well as de-risking its investment portfolios.
"However, the more fundamental changes relate to our strategy and how we are organising ourselves and deploying our resources to deliver the sustainable, profitable growth and returns that drive shareholder value," he said.