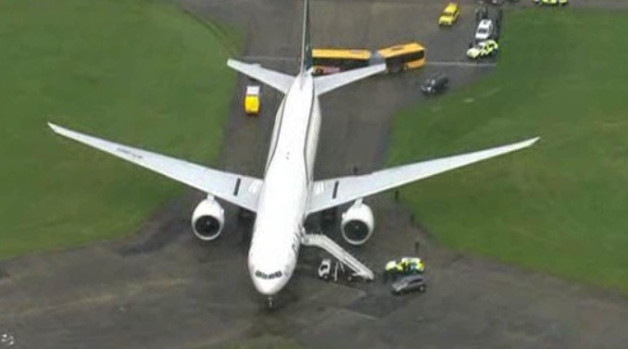 Two men have been charged with endangering the aircraft that was escorted to Stansted Airport by RAF Typhoon fighter jets on Friday.
The pair, Tayyab Subhani, 30, a taxi driver and Mohammed Safdar, 41, a restaurant worker, are from Nelson, Lancashire and will appear at Chelmsford magistrates court on Monday, Essex Police said.
The two men, both British nationals, will remain in custody until their court appearance.
The Pakistan International Airlines flight PK709 was en route from Lahore to Manchester when it was diverted near York, and landed at Stansted at 2.15pm BST.
The plane, a Boeing 777 carrying 257 passengers, was escorted out over the North Sea and then back inland by fighters from RAF Coningsby in Lincolnshire.
Subhani and Safdar were both escorted off the plane by armed police, who boarded the aircraft to apprehend them.
'They tried to enter the cockpit'
Pakistan's Express News, citing testimony from one of the passengers, initially claimed there were explosives on the plane. However Supt Darrin Tomkins, of Essex Police, has stated that no explosive devices have been found on board flight PK709.
However a number of those on the flight claim the two men arrested tried to force their way into the cockpit.
Passenger Umari Nauman told Sky News: "The cabin crew informed us that basically (the men) tried to come into the cockpit a few times.
"Because they had been asked not to do that, they got into a bit of an argument with the crew and made a few threats."