In the last few years, filmmakers such as JJ Abrams, Joss Whedon and the Russo Brothers have proved that action-packed sci-fi blockbusters are just as capable of having emotional depth as indie dramas or serious biopics. Amongst all of their works, this was exhibited most notably in Abrams' 2013 Star Trek sequel Into Darkness, which, without getting into spoiler territory, momentarily broke fans hearts when it came to Captain Kirk and Spock's friendship towards the end of the film.
Now, judging by Collider's recent interview with cast member Zoe Saldana, follow-up movie Star Trek Beyond will feature much of the same themes, moving the audience as well as offering up some cracking CGI.
"Every relationship in this movie will be tested on a very, very high scale," the 37-year-old told the publication. "The great thing about this instalment is that it's not only Kirk and Spock and JJ's Spock and Uhura, his twist. It's also Chekov and Scotty. It's Sulu.
"So I'm really excited about this because now it's an ensemble more than ever. All of their dynamics are tested. Spock and Uhura are going to be tested. To what extent? I don't know. But I mean they made it in the show... they were old in the show. What more can I say without giving it away," she laughed.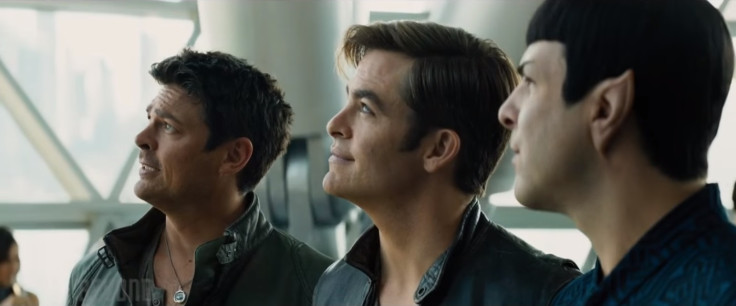 While Saldana also jokingly explained how the entire cast are getting more comfortable with "speaking sci-fi" on set and the franchise's plots are becoming more entwined with the traditional Star Trek mythology than ever before, she insisted that Beyond is rooted in "humanity." She praised co-writers Simon Pegg and Doug Jung specifically, for being able to really run with the foundations that Abrams established in the first rebooted film back in 2009.
"There's a humanity now here," she claimed. "Not to say that it wasn't there before, because JJ is the one writer that was known to sort of melt the ice-cold sterilization of action movies. So JJ did that with Star Trek. And by him setting that tone, Simon was able to pick up from where sort of JJ left off.
"Simon is known for being a very human and sensible artist in the characters that he creates, and the characters that he creates around his character [Scotty] in the films. I've been a fan of his work for a very long time. And I've always believed in him. And he's British. It's like they f*****g know big words and... they're made to write."
Star Trek Beyond, which sees Chris Pine, Zachary Quinto, Karl Urban and Anton Yelchin reprise their roles from the previous movies alongside Saldana and Pegg, opens in UK and US cinemas on 22 July. Newcomers to the franchise this time round include Kingsman: The Secret Service actress Sofia Boutella and Idris Elba.
For more entertainment news follow A-List on Twitter @Alistinsider