Star Wars 7 will premiere in just a couple of weeks and fans are yet to get a proper glimpse of their favorite Jedi Luke Skywalker. Many have speculated that his absence from the trailer and the movie poster is either a well-planned marketing gimmick by Disney/Lucasfilms or his presence in the movie is very minimal to allot him some space in The Force Awakens trailer, which is one of the most viewed videos on YouTube.
However, Mark Hamill, the man who brings the most popular character alive, has leaked some major spoiler revealing the fate of the son of Darth Vader.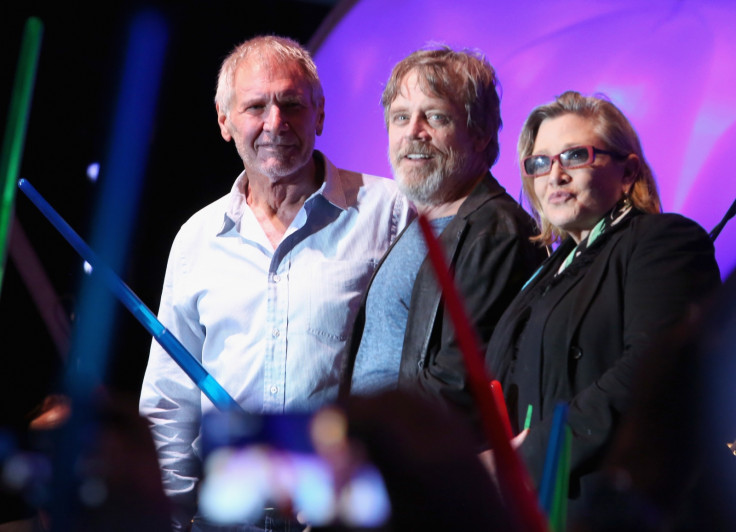 "Last shaved on 10/22 after final day of my 2nd #TheFlash (which airs 12/8 #XmasTrix), just in time for Ep VIII-whew!" the fan favorite Hollywood star tweeted, confirming his return for the eighth sequel of the blockbuster space odyssey franchise.
Earlier, it was speculated that the former Jedi Master may not survive the events of the seventh instalment as young characters Rey and Finn have taken centre stage in the plot. Disney has kept Hamill's look a well-kept secret and is planning to do so until the movie releases before Christmas.
Rumours have it that Rey and Finn will embark on a journey to find the Jedi Knight, who is the only hope in defeating Kylo Ren and restoring galactic peace. While doing so, the duo will meet former rebel leader Han Solo and his trusted friend Chewbacca, who will guide them through the events of the Return of the Jedi, which has turned into a myth.
The movie suffered major leaks before its grand premiere, including the first look of Luke during his self-imposed exile and the movie synopsis that reveals the upcoming major war between the former Jedi Master and Kylo. Rumours are abuzz that Kylo can only be destroyed by the most powerful warrior in the galaxy, Luke, the son of Dark Lord Darth Vader.
Star Wars 7 is the first of a new trilogy starring original cast members Harrison Ford, Carrie Fisher, Mark Hamill, Anthony Daniels, Peter Mayhew and Kenny Baker alongside Andy Serkis, Max von Sydow, Oscar Isaac, Adam Driver and Domhnall Gleeson with relative newcomers and British actors John Boyega and Daisy Ridley. The Force Awakens will premiere on 17 December 2015 in the UK and on 18 December in the US.