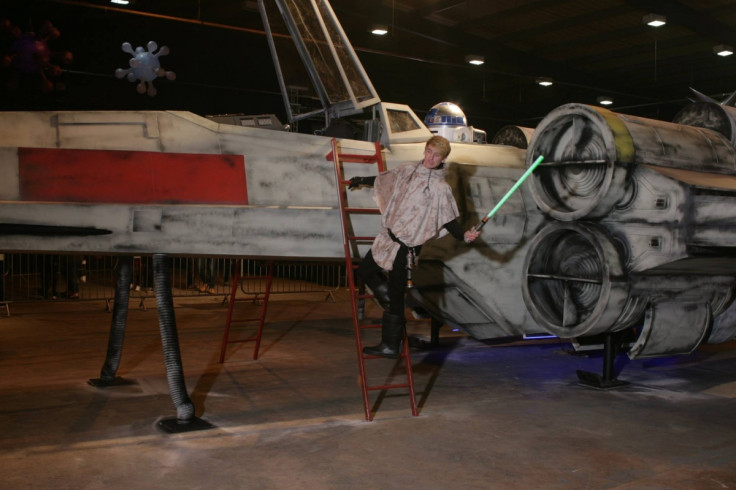 Star Wars fans have descended on Manchester to attend For The Love Of The Force: the UK's largest independent convention dedicated to the film franchise. The event will include appearances from Dave Prowse – the original actor beneath Darth Vader's mask – and Michael Carter, who portrayed Jabba the Hut majordomo Bib Fortuna in Return of the Jedi.
Attractions at the convention that takes place at the city's Bowler Exhibition Centre over three days (4-6 December) include a life-size replica of an X-Wing fighter, a full-scale model of a Scout Walker (seen in Return of the Jedi) and a mock-up of an Ewok Village. It also features a replica of the Cantina in Mos Eisley space port that includes exotic space-themed drinks.
Brian Muir wrote on Twitter: "Blue milk in Cantina, had to be done after busy day at For The Love Of The Force."
Roger Mitchell took to the social networking site and said: "Today I'm with my nephew at For The Love of the Force convention in Manchester. This is us with an X-Wing. Eat it."
For The Love Of The Force has been organised independently and does not have any official connection to Lucasfilm or Star Wars' current owner, Disney, but is one of several events taking advantage of the build up to the release of the latest film in the saga Star Wars: The Force Awakens that hits screens on December 17.
Yesterday (4 December) the officially sanctioned Star Wars Launch Bay opened at Walt Disney World in Los Angeles with a further roll out of the attraction scheduled at Disneyland in Orlando Florida. The new attraction will feature opportunities to meet the infamous Darth Vader and Chewbacca. It will also include a Jedi Training Camp.