Star Wars fans are up in arms over a leaked toy photograph that is currently going viral on Facebook all around the world. The photo of the toy reveals a huge plot spoiler that some fans don't want to know, but people are unwittingly seeing the image on their newsfeeds whether they like it or not (photo and spoiler is at the bottom of the article).
The online drama started when a Star Wars fan site in the US named Star Wars Action News posted a photo to Facebook of a 9.5cm tall action figure of Rey, a female character from the upcoming Star Wars: Episode VII – The Force Awakens film. One of the site's staff members, a user named Justin, found the toy on sale at his local Walmart in Iowa, apparently far earlier than the figure should have been released, according to Ars Technica.
Excited by his find, Justin bought the figure for $6.94 (£4.59) and then posted a photo of the toy on the Star Wars Action News Facebook page on 8 December, with the caption: "Have we known this figure was coming? I just found her at Walmart — no new other figures."
The post began to go viral, but then the website's owners Marjorie and Arnie Carvalho were notified by Facebook that the post had been deleted because it violated copyright. Unfortunately, the photo has spread like wildfire over social media and Lucasfilm, with its owner Disney, has been sending out Digital Millennium Copyright Act (DMCA) takedown notices, although the photo should by rights belong to Star Wars Action News.
Jeremy Conrad, the owner of another fan site called Star Wars Unity, reported that after he retweeted the photo on Twitter, he received multiple DCMA takedown requests from Irdeto, a third-part enforcement company on behalf of Lucasfilm, stating that the infringement was "a screenshot of an unreleased figure for Star Wars: Force Awakens". The DCMA takedown requests were sent to the website's Twitter account, Facebook page, Google+ Page and even the webhost of the website.
Conrad wrote that he felt compelled to remove the image as he couldn't afford to be sued. As for the Carvalhos and Star Wars Action News, Arnie posted saying the photos had been removed because they valued their working relationship with Hasbro, but as of 11.39am GMT on 11 December, IBTimes UK can still see the controversial photo on their Facebook post, so perhaps the picture has gone so viral that it can't be stopped.
Beware, spoiler photo could come to a newsfeed near you
The downside is that Star Wars fans claim that social media is no longer a safe place because they risk seeing the image even without accessing the Star Wars Action News Facebook page, and fans are debating on the fan site's Facebook page whether the photo should have been shared.
"People are trying to avoid spoilers as much as possible, but this showing up in feeds regularly is ruining the reveal for more and more people," Ian Blyth, a wedding photographer based in Gravesend, Kent who was tagged in a photo of the toy on 10 December, told IBTimes UK.
"Yes, I was annoyed. It's a huge thing. I wouldn't have wanted to know it, still wish I didn't. That reveal will be pivotal in the movie. People just tagged and shared because of the excitement of seeing something new, and if the photo tag stays on, then anyone that looks at your profile sees it and it comes up in the newsfeed."
Blyth points out that although Facebook users who get excited and tag their friends in the photo are to blame, so is Star Wars Action News for sharing the photo in the first place.
"Most Star Wars groups I'm part of have a blanket ban on all spoiler talk until 1 January. Some sites don't care about fans, just likes, and posting something viral like that gets them the likes, no matter how many fans they annoy in the process. It's that simple, just post a notice saying 'spoiler free' or not, then the fans know if it's safe or not to view the group or page," said Blyth, who is a well-known Jedi cosplayer in the UK cosplay community.
Star Wars: Episode VII – The Force Awakens will be released on 16 December in some European countries, as well as Thailand and Philippines; 17 December in the UK, Singapore, Australia, New Zealand and some south-east Asian countries; and 18 December in the US, Japan, Spain and Venezuela.
Warning: MAJOR spoilers ahead! Do not scroll beyond this point if you don't want to know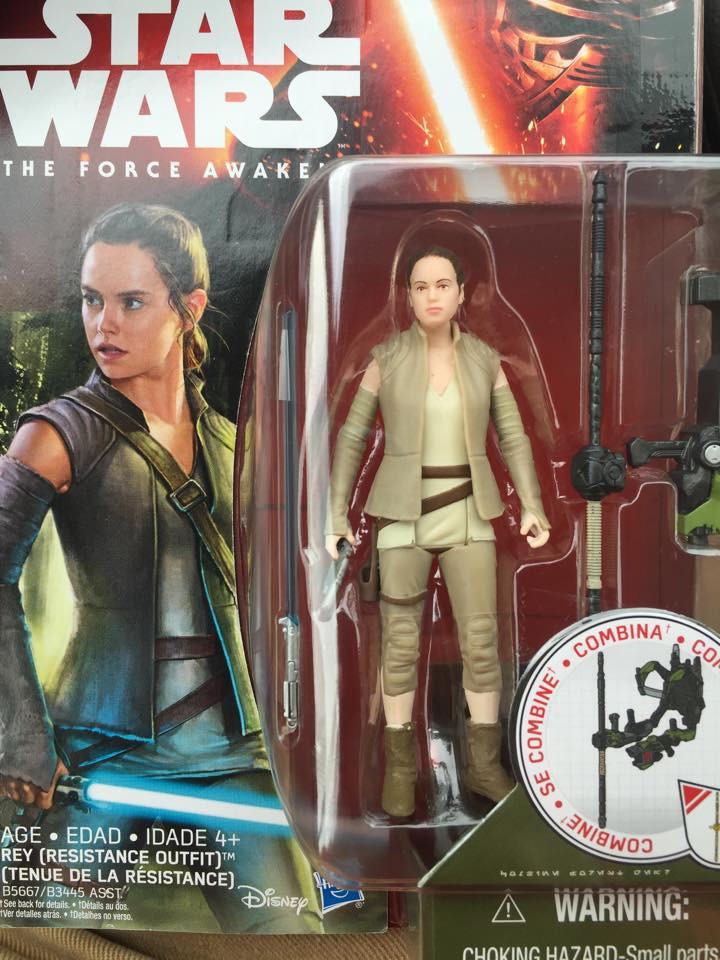 So what's the actual spoiler then? Blyth explained: "[The toy photo] is a big spoiler because it confirms that Rey gets Luke's lightsaber and joins the rebel movement, becoming the first female lead Jedi in the movie franchise's history."