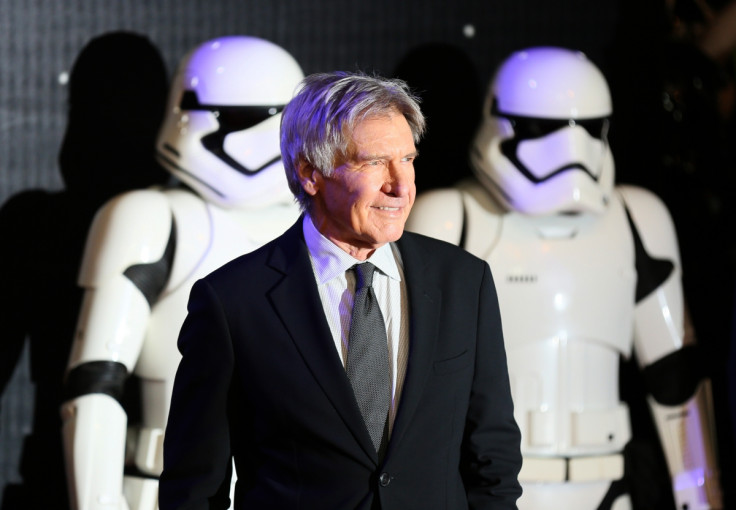 A production company that helped to make Star Wars: The Force Awakens is to be prosecuted by the Health And Safety Executive (HSE) after a door struck Harrison Ford and broke his leg. The actor was taken to hospital for surgery when a hydraulic metal door hit him whilst he was on the set of the Millennium Falcon in June 2014.
The accident, which happened at the Pinewood studios in Buckinghamshire, have been investigated by the HSE who has brought four criminal charges against Foodles Production (UK) Ltd, which is a subsidiary of Disney. The eagerly-anticipated Star Wars: The Force Awakens was the most successful film ever at the UK Box Office.
It was the seventh instalment of the hit sci-fi epic and has taken more than $2bn worldwide after costing £200m to shoot. After its runaway success and critical acclaim production of Star Wars: Episode VIII has already begun at Pinewood with an estimated release in December 2017.
Ford, who starred as Han Solo in the flick was airlifted to John Radcliffe Hospital in Oxford where his wife, Calista Flockhart, joined him in a trauma unit. The company is responsible for producing Star Wars VII: The Force Awakens, and as such is culpable under UK health and safety law.
Whilst Foodles Production said that they were "disappointed" by the HSE's decision to prosecute the company. A spokesperson for the HSE said according to the BBC: "By law, employers must take reasonable steps to protect workers - this is as true on a film set as a factory floor."
A spokesman for Foodles Production said: "Cast and crew safety is always a top priority. We provided full co-operation during HSE's investigation into the on-set accident that occurred in June 2014 and are disappointed in HSE's decision."
On 5 March last year the 73-year-old Star Wars actor crash-landed his Ryan Aeronautical ST3KR on a golf course near the Santa Monica airport. Ford reported engine loss and requested an immediate return only minutes after taking off. The production company will appear at High Wycombe Magistrates Court on 12 May.