A new Lego game based on Star Wars: The Force Awakens will be released this summer, according to a product page leaking the game's existence ahead of its proposed announcement later on 2 February. A trailer has also been leaked.
Warner Bros will announce the game officially at 2pm GMT (11am ET, 6am PT) but the surprise has been ruined by a listing on the Xbox store, which offers a set of screenshots, a description and a release date of 28 June (in the US, at least).
The product description also reveals some levels included in the game will help bridge the gap between Episode 6, Return Of The Jedi, and JJ Abrams hit film, released in December 2015. A screenshot of a younger Han Solo, Princess Leia and Chewbacca (below right) appears to show them on Endor, where the original trilogy concluded.
Below is the leaked trailer. We'll update it with the official trailer once that has been released.
Some new gameplay features were also revealed. "Lego Star Wars: The Force Awakens also introduces Multi-Builds and Blaster Battles to the Lego videogame universe," reads the description. "With Multi-Builds, use available Lego bricks to open up new paths, then break them apart and re-build them again to open up another! And another! During Blaster Battles, use your surroundings as cover to stand against the First Order. "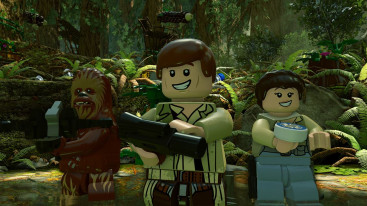 A Lego cover shooter? OK.
Warner Bros had been teasing a "massive announcement" that would bring together "two of the world's most popular entertainment brands" and this certainly lives up to the billing. A Lego game based on a film that has grossed nearly $2bn (£1.4bn) is about as sure fire a hit as you can imagine.
Lego Star Wars: The Force Awakens will be released on PS4, Xbox One, PC, Wii U, PS3, Xbox 360, Nintendo 3DS and PS Vita.
For all the latest video game news follow us on Twitter @IBTGamesUK