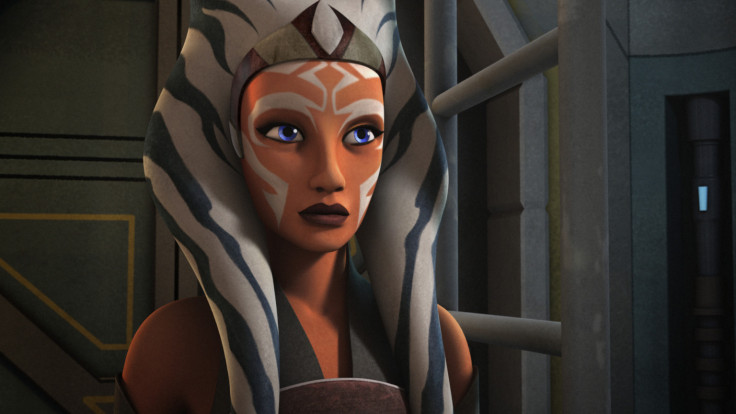 Star Wars Rebels executive producer Dave Filoni took to social media to share a cryptic tease about Ashoka Tano's return on his 43rd birthday.
Filoni treated his fans with an intriguing image of Ahsoka and addressed his controversial "Ahsoka Lives" shirt during this year's Star Wars Celebration in Orlando earlier in April.
The photo features Ahsoka, a wolf, and an owl. Tano's text bubble reads "not the wolf" presumably addressing rumours of her returning in Disney XD's Star Wars Rebels season 4 in the form of the wolf.
Filoni wrote on Twitter, "It might be my Birthday, but here is a gift, and perhaps a clarification, for you. May the Force be with you! - Dave". Season 2 of Star Wars Rebels ended with the collapse of the Sith temple with Ahsoka still inside. Instead of running away, she was last seen walking towards the temple with a white owl.
Ashley Eckstein has teased Ahsoka's fate and revealed that fans will see her again. She told Yahoo, "I want to know more about Ahsoka's future as this kind of neutral character. Her lightsabers are white because she's neutral. She's not on the Dark Side, she's not a Jedi. She's not even a full-blown Rebel. What is she doing? Where is she? All I can say is, you'll see Ahsoka again.
"The reason Ahsoka is still alive is because she walked away from the Jedi Order. Clearly there's something there with The Last Jedi.... It's not what it once was, apparently," she said.
Teasing Ahsoka's journey, Eckstein said, "Ahsoka started out as this brand new character that, at first, I thought was going to be the next Jar Jar. But she's become such a beloved character by everyone — boys, girls, men women — I play a small part in the team that brings Ahsoka to life."
Star Wars Rebels season 4 returns to Disney XD this fall.