The refugee camp of Yarmouk in the Damascus suburbs finds itself at the centre of the Syrian civil war, sandwiched between the fierce fighting of Bashar al-Assad's government forces and Islamic rebels.
The camp's population has shrunk from 150,000 to 40,000 as a result of months of fighting and bombardment. Of this group, 18,000 are Palestinian refugees.
The civil war has restricted the access that Yarmouk residents have to food, medicines and other vital resources. According to the UN, more than 100 people have died of starvation and hunger-related illnesses at Yarmouk.
UNRWA chief Filippo Grandi has described the scenes witnessed at Yarmouk as "shocking" on a recent visit, comparing the people queuing for food to "the appearance of ghosts".
"The devastation is unbelievable. There is not one single building that I have seen that is not an empty shell by now. They're all blackened by smoke," he said.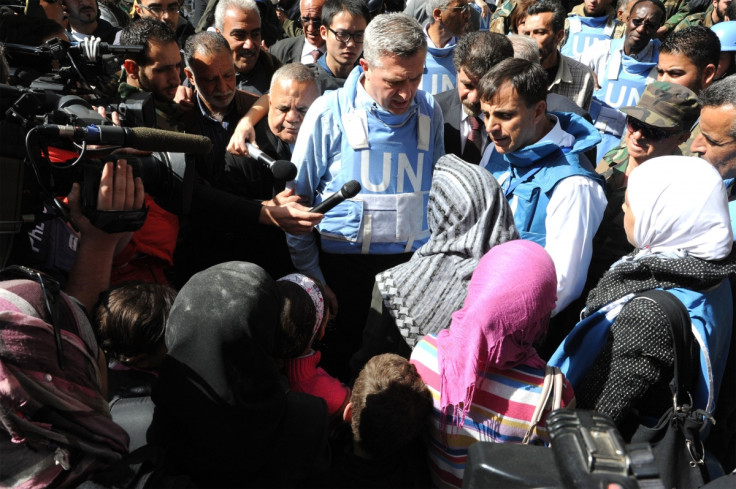 A photograph released by the UNRWA this week (shown above) gives credence to Grandi's version of events, displaying thousands of desperate Palestinians queuing to receive food packages from humanitarian workers.
Despite the aid being a "drop in the ocean", UN workers have delivered approximately 7,000 food packages in recents months after negotiations between the two fighting factions alleviated a crippling blockade on the camp.
The UN Security Council last week passed a resolution that called on all warring parties in the civil war to make efforts towards allowing humanitarian aid from the United Nations and other NGOs to be accessed by affected civilians.
'We are slowly dying'
"We live in a big prison. But at least, in a prison, you have food. Here, there's nothing. We are slowly dying," Rami al-Sayed, a Syrian activist residing in Yarmouk, told AFP.
"Sometimes, crowds of children stop me on the streets, begging me: "For the love of God, we want to eat, give us food." But of course, I have no food to give them," he continued.
One food package feeds a family of five to eight people for ten days but the aid is not continuous for many of the residents of Yarmouk.
"We've been living off herbs, but these herbs are bitter. Even animals won't eat them," said Sayed.
"And if you go to the orchards to pick herbs from there, to use them to cook soup, you'll get sniped.
"The situation is really tragic. On the streets, all you see are emaciated people, their faces drained of any life. Sadness is everywhere."
Filippo Grandi recently reassured a crowd in Yarmouk that the UN agency hopes to give everyone the aid they need if those waging Syria's civil war will allow that to happen.
"We will not forget you, the world will not forget you," he promised.