State of emergency called as far-right march leaves US city of Charlottesville in chaos
The 'Unite the Right' rally was declared an 'unlawful assembly' by officials.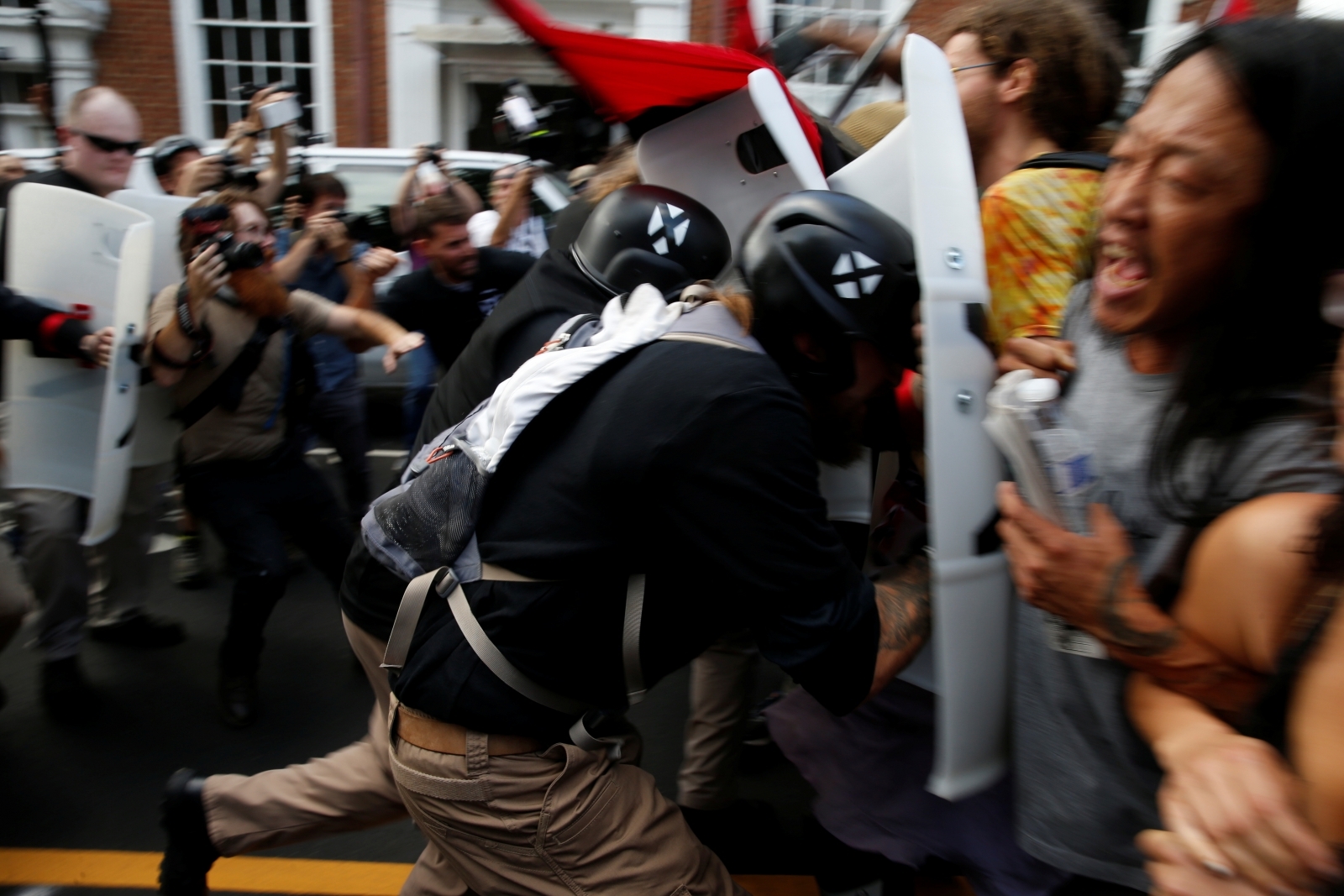 Police and government officials have called a state of emergency after hundreds of people have faced off in the US city of Charlottesville, Virginia ahead of a white nationalist "Unite the Right" rally.
Supporters and counter-protesters screamed, chanted, threw punches, hurled water bottles and unleashed chemical sprays on each other on Saturday morning. Men dressed in militia uniforms were carrying shields and openly brandishing automatic rifles.
Right-wing blogger Jason Kessler planned what he called a "pro-white" rally to protest Charlottesville's decision to remove a statue of Confederate General Robert E. Lee from a city park.
Thousands of people were expected to pack the area.
As reported, there were also fights on Friday night (11 August), when hundreds of white nationalists marched through the University of Virginia campus carrying torches. A university spokesman said one person was arrested and several people were injured.
On social media, Charlottesville officials said the mass of people gathering at Emancipation Park had been declared as an "unlawful assembly".
Local media suggested that at least 1,000 officers were later deployed onto the scene.
The Charlottesville Police Department said: "City Manager Maurice Jones and Interim County Executive Doug Walker have simultaneously issued a Declaration of Local Emergency.
"This joint declaration allows local officials to request additional resources if needed to respond to ongoing events in the community which are currently localised in downtown Charlottesville.
"Scheduled activities outside the downtown area are not impacted by ongoing events or by this declaration at this time. Local officials continue to closely monitor the situation and will provide additional details as they are available."
US First Lady Melania Trump tweeted: "Our country encourages freedom of speech, but let's communicate w/o hate in our hearts. No good comes from violence."

President Donald Trump, however, did not immediately comment on the events.

Previous trouble erupts
On Friday, an impromptu demonstration resulted in skirmishes at the University of Virginia, after crowds gathered while chanting "white lives matter" and "Jews will not replace us".
The president of the university campus, Teresa Sullivan, released a statement condemning the protesters' actions. She wrote: "I am deeply saddened and disturbed by the hateful behaviour displayed by torch-bearing protesters that marched on our grounds this evening.
"Law enforcement continues to investigate the incident, and it is my hope that any individuals responsible for criminal acts are held accountable. The violence displayed on grounds is intolerable and is entirely inconsistent with the university's values."
But the statement may have had little effect, as violence continued to erupt on the streets.
Reporters and journalists, meanwhile, were on-the-ground. NBC News producer Craig Stanley was tweeting live video updates of the scenes, which included mounting clashes.
"We are breaking down and relocating - being hit with tear gas bombs," he wrote.
Social media reports showed that armed militia were in attendance at the march in a protest soup which also included a mass of counter-protesters. Exact numbers were unclear.
But between rally attendees and counter-protesters, authorities were expecting as many as 6,000 people, Charlottesville police said this week.
Among those expected to attend are Confederate heritage groups, KKK members, militia groups and "alt-right" activists, who generally espouse a mix of racism, white nationalism and populism.
Both the Anti-Defamation League and the Southern Poverty Law Centre, which track extremist groups, said the event has the potential to be the largest of its kind in at least a decade.
Officials have been preparing for the rally for months. Virginia State Police will be assisting local authorities, and a spokesman said the Virginia National Guard "will closely monitor the situation and will be able to rapidly respond and provide additional assistance if needed."
Police instituted road closures around downtown, and many businesses in the popular open-air shopping mall opted to close for the day. Both local hospitals said they had taken precautions to prepare for an influx of patients and had extra staff on call.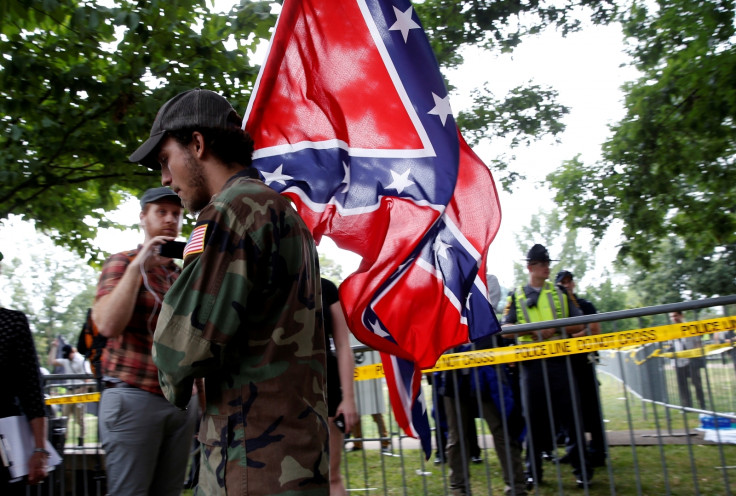 Charlottesville, nestled in the foothills of the Blue Ridge Mountains, is a liberal-leaning city that's home to the flagship University of Virginia and Monticello, the home of Thomas Jefferson.
The statue's removal is part of a broader city effort to change the way Charlottesville's history of race is told in public spaces. The city has also renamed Lee Park, where the statue stands, and Jackson Park, named for Confederate General Thomas "Stonewall" Jackson.
They're now called Emancipation Park and Justice Park, respectively.
For now, the Lee statue remains. A group called the Monument Fund filed a lawsuit arguing that removing the statue would violate a state law governing war memorials. A judge has agreed to a temporary injunction that blocks the city from removing the statue for six months.
© Copyright IBTimes 2023. All rights reserved.