Several hundred torch-bearing white supremacists descended on the University of Virginia on Friday (11 August), chanting "white lives matter" and "Jews will not replace us" in protest of ongoing plans to remove a statue of American confederate general Robert E Lee.
Reports indicated that the march started at just after 9:30 pm (UTC) and lasted up to 20 minutes, eventually ending after clashes with counter-protestors. According to The Washington Post, a brawl involving chemical spray broke out at a statue of university founder, Thomas Jefferson.
Photographs from the scene in Charlottesville quickly circulated across social media including Facebook and Twitter, showing masses of attendees taking part in the rally. Some, according to the images, were spotted while proudly placing their arms in a Nazi-like salute.
The march was held in advance of a Saturday (12 August) rally dubbed "Unite the Fight", a movement of groups who claim that their history is under threat.
It is set to take place at Emancipation Park, formerly Lee Park, where the statue of the general stands.
According to the BBC, protest organiser Jason Kessler said the event was an "incredible moment for white people who've had it up to here and aren't going to take it anymore."

Local media reports and social media accounts claimed that demonstrators were chanting: "One people, one nation, end immigration".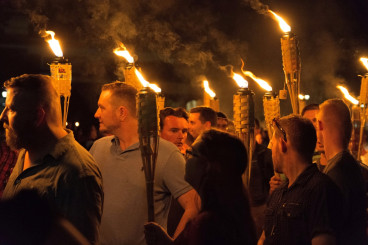 The president of the university campus, Teresa Sullivan, released a statement condemning the protestors' actions. "I am deeply saddened and disturbed by the hateful behaviour displayed by torch-bearing protestors that marched on our grounds this evening" she stated.
"I strongly condemn the unprovoked assault on members of our community, including university personnel who were attempting to maintain order.
"Law enforcement continues to investigate the incident, and it is my hope that any individuals responsible for criminal acts are held accountable. The violence displayed on grounds is intolerable and is entirely inconsistent with the university's values."
Meanwhile, on Facebook, Charlottesville mayor Mike Signer said he was "disgusted" by the scenes that emerged from the university.
He wrote: "Not only as the Mayor of Charlottesville, but as a UVA [University of Virginia] faculty member and alumnus, I am beyond disgusted by this unsanctioned and despicable display of visual intimidation on a college campus."
Additionally, the city's manager Maurice Jones told press during a news conference on Friday that citizens should expect a high police presence as the rest of the weekend unfolds.
"These are trying and difficult times for our city and our nation," Jones said, according to Daily Progress, which covered the event as it took place on the ground.
"We have deep political and ideological differences, and those differences will play out here in our community this weekend. It will be stressful and it will be tense, but I'm optimistic that cooler heads will prevail and we will ultimately be stronger as a community once this event is over."
Joe Heim, a staff writer at the Washington Post, tweeted out numerous images from the scene. "Marchers are young, overwhelmingly male," he noted.