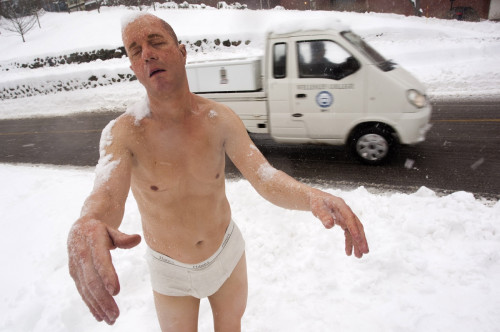 A lifelike sculpture of a nearly-naked man sleepwalking has been exposed at a US women's college, causing a student protest.
The artwork by sculptor Tony Matelli appeared at a busy outdoor area of Wellesley College campus, near Boston, Massachusetts, earlier this week.
Depicting a bolding man wearing only white underwear as he stands with his eyes closed and arms outstretched, the statue, named Sleepwalker, has not been well received by all college students.
"I honestly didn't even want to get too close to him," one Wellesley College student Laura Mayron, told the Boston Globe. "It honestly makes me a little uncomfortable with how real he looks. It's odd."
An online petition for it to be removed was launched shortly after Sleepwalker was unveiled and signed by more than 500 people.
"[The sculpture] has become a source of apprehension, fear, and triggering thoughts regarding sexual assault for some members of our campus community," the petition read.
"While it may appear humorous, or thought provoking to some, the "Sleepwalker" has already become a source of undue stress for a number of Wellesley College students, the majority of whom live, study, and work on campus."
Sleepwalker was part of the Matelli exhibition at the college's Davis Museum. Petitioners urged college president Kim Bottomly to place the controversial work with the other pieces.
However Bottomly and Davis Museum Director Lisa Fischman defended the artwork and its outdoor location.
"The very best works of art have the power to stimulate deeply personal emotions and to provoke unexpected new ideas, and this sculpture is no exception," they said in a joint statement.
"[The sculpture] has started an impassioned conversation about art, gender, sexuality and individual experience, both on campus and on social media."
Fischman said the statue was placed on the roadside behind the museum "to connect the exhibition to the campus world beyond our walls".