Next May there's a general election in the UK and, as usual, this will set the hearts of many London adfolk all a-flutter. Not because they will make money from it or, even if they are involved for one or other of the parties, necessarily make an advert.
But it is an opportunity to leave trade behind for a few weeks and persuade themselves (and, they hope, some important others) that they are a force in the land.
Political advertising in the UK is restricted: unlike the US, you cannot make political TV commercials as and when you want. Broadcast time is limited to so-called Party Political Broadcasts and these are strictly allocated to the bigger parties.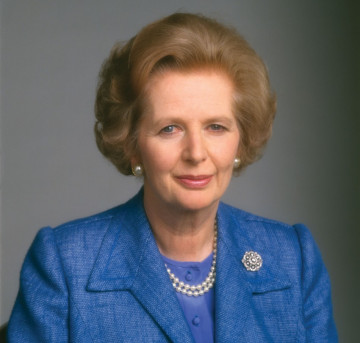 But we're in the YouTube generation now, with online video collecting huge audiences all over the place. Will such media be restricted come next May? We do not really know and, in any case, online video is almost impossible to corral – look at the Isis beheading videos, for example.
So who will be entering the lists on behalf of the various parties?
It's impossible to discuss political advertising in the UK without mentioning the name Saatchi.
When Saatchi & Saatchi was run by Charles and Maurice, it became massively famous for handling Conservative Margaret Thatcher's successful campaign for Number 10 in 1979.
Saatchi's "Labour Isn't Working" poster is still the template for British political ads. Indeed it won Saatchi and its then managing director Tim Bell (now Lord Bell) assignments all over the world.
Charles and Maurice left their agency in 1994 after falling out with some big shareholders and set up rival M&C Saatchi, which continued to (mostly) handle the Tory Party account. But their old magic had deserted them, possibly because Bell had moved on to pastures new.
M&C's "Demon Eyes" poster depicting Labour PM Tony Blair in 2001 was, possibly, the nadir of British political advertising – way over the top (whatever else Blair was, he was not frightening) and made its sponsors, the Tories, look juvenile. And they lost.
M&C remains in the game – it handled the official "Better Together" campaign in the recent Scottish Referendum – but it is no longer a shoo-in. In the last general election, the Tories were advised by Johnny Hornby, founder of the CHI & Partners ad agency, although it's hard to remember a standout ad.
Elections are not all about ads, of course, they are also about advice. Bell, in cahoots with PR man Gordon Reece, advised Thatcher to change her hairstyle (she used Carmen rollers before the professionals moved in) and change her voice to a husky rumble. Celebrated actor Sir Laurence Olivier was reeled in for this.
Later on, as Bell explains in his new memoir Right Or Wrong, the unfortunate woman was receiving advice from all over the place. Maurice Saatchi and pals were arriving in Downing Street with their presentation boards while Bell, who was no longer supposed to be on the case, was hiding from them in a back room. Meanwhile John Banks, head of the Young & Rubicam agency in the UK, which also had designs on the business, was knocking at the tradesman's entrance.
Labour saw advertising as an 'evil capitalist tool'
Until the Blair era, Labour had an ambivalent attitude to advertising, indeed to spinning of any description. Its advertising was mostly handled by the BMP agency and its managing director Chris Powell, the brother of Mrs T's chief of staff Charles Powell and Blair's equivalent, Jonathan.
Admen were reluctant to work for Labour for the very good reason many Labour politicians were keen to ban, or at least circumscribe advertising, seeing it as an evil capitalist tool.
Blair ally Peter (now Lord) Mandelson, a former TV producer, was not having any of this and chose Trevor Beattie's agency BMB to handle Labour's successful campaign in 1997. Beattie duly became famous although, in truth, the Labour landslide would have happened anyway, advertising or not.
So does advertising make a difference and what will be parties do this time round?
There's no doubt the early Saatchi work for the Tories did effectively highlight the drawbacks of Labour. Although it is interesting to note unemployment in the UK rose sharply after the 1979 election and "Labour Isn't Working". The unemployment queue in the poster actually consisted of Young Conservatives - but it worked.
Thereafter, who knows? But general elections are an important business and all the parties will be trying to round up as much advice (preferably free but not always) as they can.
This will include bucket loads of research, including focus groups where people are invited to say what they really think (mostly unaware that they are being observed while they're doing it).
CHI's Hornby may be back batting for Tory leader David Cameron and you can never write off M&C Saatchi. The hottest UK agency at the moment is one called adam&eveDDB but this is part of worldwide marketing communications giant Omnicom and such companies often steer clear of elections, preferring to hedge their bets.
Some brave agency (or individual) will take on Ed Miliband and Labour. Maybe Beattie will emerge from semi-retirement. Labour is not the easiest client to make palatable just at the moment but it might well win, especially if Ukip takes the predicted number of votes away from the Tories. And admen love winners.
Ukip's Nigel Farage will find individuals wanting to help (his party probably does not have the budget to hire a full-on ad agency although big donor Paul Sykes might find the money) while the Lib Dems' Nick Clegg may find it hard to find a friend to phone.
It will be good dirty fun but the most likely outcome is still a lot of wasted time and hot air. Politicians, usually, do what they want in the end.
In his memoir, Bell describes this as their "black heart". He isn't wrong.
Stephen Foster is editor of More About Advertising, a former editor of Marketing Week and a London Evening Standard advertising columnist. He wrote City Republic for Brand Republic and is a partner in communications consultancy The Editorial Partnership.