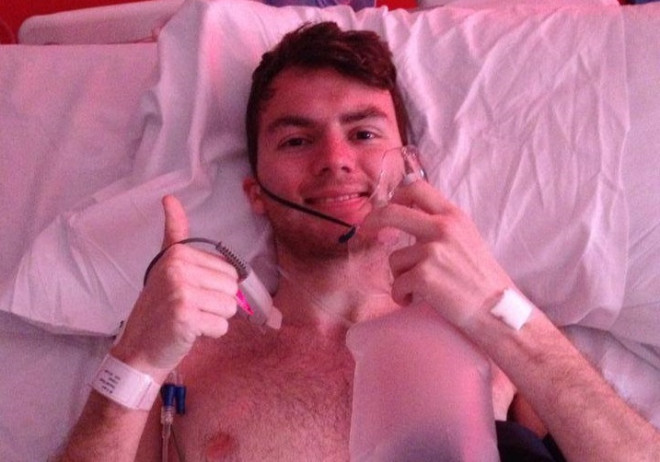 A terminally-ill teenager has broken all records on fundraising website JustGiving.
Stephen Sutton has now raised £2.6 million for the Teenage Cancer Trust with more than 106,000 people pledging their support for his charity appeal.
The teenage cancer sufferer had posted details of his 'bucket list' to thousands of online fans which included raising £10,000 for charity.
He soon increased his target to £1m, as celebrities including Jason Manford, Stephen Fry and Russell Brand came on board with the campaign pledging their support and encouraging others to donate.
Writing on his Facebook page Sutton thanked everyone who had made a donation saying: "I've always been a firm believer that people are 'good' and to see people come together in the way they have is incredibly touching and heart-warming.
"Thank you from me and thank you from every young cancer patient who will benefit invaluably from the money raised."
Sutton, who was diagnosed with incurable colorectal cancer at the age of 15, added that he was "feeling well" and was in a "stable" condition after his health worsened last weekend.
"The tumours in my body are still rife and dangerous, but I feel so lucky to just still be here," he added.
"In fact, I feel completely privileged to be in a position where I can help make such a difference to other people's lives."
He has also released a 10-minute YouTube video called When Life Gives You Cancer, featuring interviews with his mum, his school teachers and his best friend.
His head teacher, Stewart Jones, said: "Stephen is the most amazing person I've ever met, let alone the most amazing student."
Tim Dowling, who runs the sixth form college at Stephen's school, added: "He's very special because he refuses to let his illness beat him or govern the rest of his life."
As donations continued to flood in, JustGiving itself donated £50,000 to Stephen's appeal.
In a message posted alongside its donation, it wrote: "Stephen, we think you're amazing. It's been a privilege supporting your fundraising. You've now broken all records on JustGiving, so here's a special donation from us."