Warner Bros is rumoured to be in talks over a film version of Stephen King's Dark Tower series.
Fans of the epic book saga have had their hopes of an adaptation repeatedly quashed, but Deadline claims the studio has bought a script by Akiva Goldsman.
Adapting the seven book series to the screen is an ambitious venture, with a devoted fan following and reams of content woven into the story of Roland Deschain, the gunslinger on a pilgrimage to the titular tower, the cog on which all of the universe's dimensions turn.
Stephen King, never one to baulk at a long word count, has packed enough into the books to fill a dozen films, with a tone that touches on old school horror, epic fantasy and spaghetti westerns.
Anticipation of a film reached fever pitch in 2011, when director Ron Howard suggested adapting the books as a trilogy, each joined with a full-length television series. However, Universal Studios, which was originally attached to the project, decided not to take such a huge risk.
The level of support for a film adaptation could be seen by the enthusiastic reactions on web forums, where a character from Frank Darabont's adaptation of King's The Mist was seen painting an image of the gunslinger.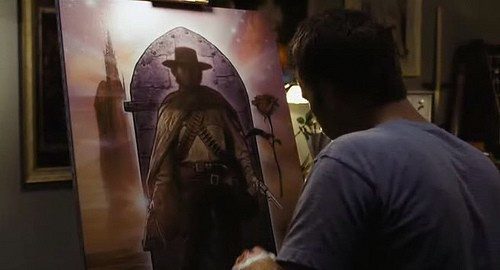 Javier Bardem, star of No Country For Old Men and Vicky Christina Barcelona, has been tipped to play Roland, a role that shares more than a passing resemblance to Clint Eastwood in a Sergio Leone film.
Although far from a guarantee that the film will be made, especially in the shadow of the box office failure of John Carter - another ambitious adaptation - the rumours will give renewed hope to Dark Tower devotees who had given up on ever seeing the books on screen.