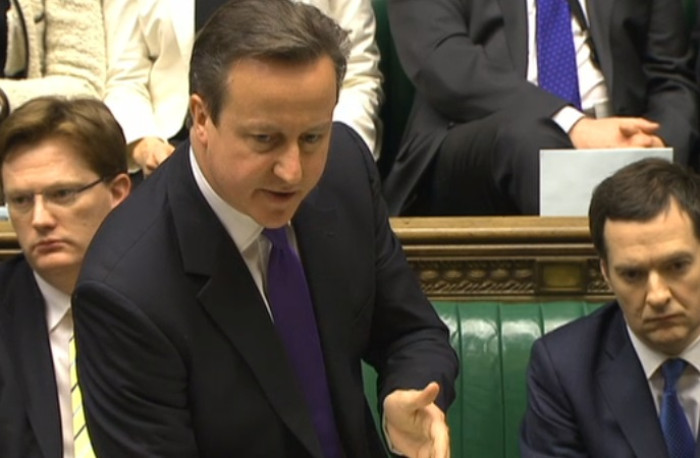 A man has been charged with committing "fear or provocation of violence" after allegedly throwing marbles towards David Cameron during Prime Minister's Questions in the House of Commons.
Steven Abberley, 27, was escorted out of the parliamentary building after being accused of launching the marbles at the protective screen in the public gallery.
The disturbance occurred as Cameron was standing to answer questions during the weekly session in the Commons.
One witness James Smith, 17, said Abberley becamed angered while Cameron was discussing the NHS.
He told the Telegraph: "Cameron said something and this man was obviously not very happy, so he got up and threw the marbles at the window and proceeded to swear and use foul language - very foul language.
"The guys grabbed him and he wouldn't go. He was saying 'I'm an English gentleman, I have the right to say my bit' and then he got carted off."
Several MPs, who were present at Prime Minister's Questions, were tweeting as the disturbance took place.
Abberley has also been charged with criminal damage after defacing a wall on the parliamentary estate between 6 and 7 May.
A Met Police spokesperson added: "Parliamentary business continued unaffected and established security procedures worked effectively following the incident."
The suspect is due to appear at Westminster Magistrates Court in November to face charges.
A House of Commons spokesman said of the incident: "Following a disturbance in the public gallery during Prime Minister's Questions today, a man was escorted from the gallery by doorkeepers and is currently in Metropolitan Police custody.
"The incident did not disrupt the business of the House and there were no injuries sustained."
The protective screen inside at the public gallery was installed in the public gallery in 2004 following fears of a possible anthrax attack. Six weeks later, the Commons was suspended for just over an hour after members of Fathers4Justice managed to throw purple powder at the then Prime Minister Tony Blair from a side gallery.