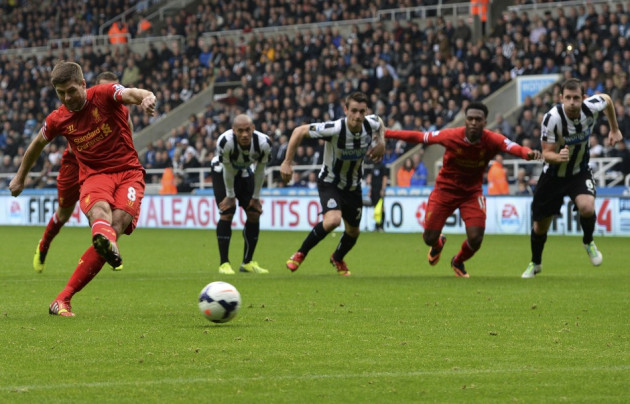 Liverpool captain Steven Gerrard is hoping the club's new formation will continue to increase his attacking influence.
The 33 year old occupied a defensive role for much of last season, Brendan Rodgers' first at Anfield, but injuries have forced the Northern Irishman to change tact this term, adopting a 3-5-2 formation to great success.
Following the 2-2 draw against 10-man Newcastle United, Liverpool are just two points adrift of leaders Arsenal and with greater attacking license Gerrard netted his 100th Premier League goal at St James' Park, albeit from the penalty spot.
In a week where former Manchester United manager Sir Alex Ferguson has questioned whether Gerrard was a world class player, the England skipper says he is not ready to give in to defensive responsibilities and wants to match the attacking contribution of Luis Suarez and Daniel Sturridge.
"I can get forward slightly more in this formation knowing that I have got three defenders behind me," Gerrard said of Liverpool's new formation.
"In general, whether the system changed or not, I have spoken to Brendan and he wants me to pick and choose my runs.
"Everybody understands that I'm not 21 anymore where I can burst into the box at every opportunity. With experience, I hope I can pick the right times for those bursts. I'm not going to become an out-and-out holding midfielder just yet.
"With the goal against Poland, I saw the opportunity late on and still had the energy to burst into the box and managed to get a toe on to it and settle everybody's nerves. Hopefully I have a few more of those in the locker before I become an out-and-out holding midfielder."
"As soon as you hit 30, everybody starts calling you a veteran," the Liverpool man added. "You lot (the media) started about three years ago! But to be honest I don't think about it.
"I just always go out there and try my best and see where that takes me. Slowly with time I will adapt my game and maybe become a controlling midfielder.
"Certainly, for the remainder of this season I am still going to try and pick my runs to get forward into the box.
"I'll honestly and openly admit I'm not 21 anymore and I haven't got those energy levels where I can go forward every single time."
Gerrard's lung-busting run and finish which secured England's passage to the 2014 World Cup with victory over Poland proved his capacity to create problems from deep is yet to escape him while with goals in each of his last two Premier League outings, the Merseyside born midfield is continuing to contribute.