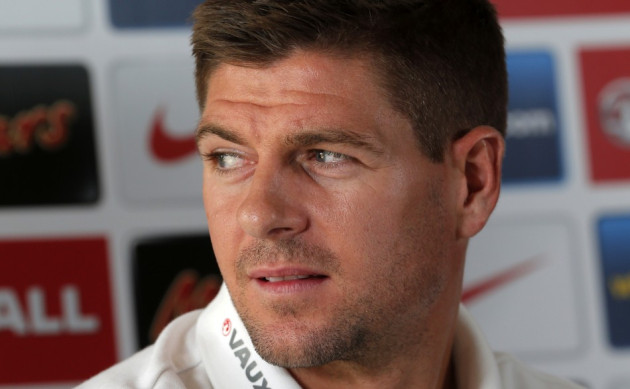 Liverpool midfielder Steven Gerrard has dismissed Sir Alex Ferguson's criticism after the ex-Manchester United boss said the England captain could not be considered a "top, top player."
Gerrard has won 107 international caps, claimed five major honours including the Champions League and made over 600 appearances across 15 years as a professional.
But Ferguson, who admitted to trying to sign Gerrard in 2004 after he had rejected a new contract at Liverpool, singled out the midfielder for criticism despite his successful career.
The Reds skipper though won't be caught up in a war of words with the former United boss: "107 caps isn't bad for someone who isn't "a top, top player", is it?
"Listen, he's entitled to his opinion," he added of the retired United manager. "I'm a fan of his; he is one of the best managers in the world. I won't lose any sleep over it.
"Throughout my career I have had praise from all types of people - including him - and I am not vain enough to take it all. I have had some unbelievable praise from him and he tried to buy me, certainly on one occasion. Maybe even two.
"For me, the most important thing is what Brendan Rodgers and Roy Hodgson are thinking. I think they are really pleased with me and that is all I will worry about."
Ferguson added in his autobiography that he tried to sign the Liverpool captain despite his reservations regarding his ability as United looked for a long-term replacement for Roy Keane, who would leave Old Trafford six months later.
A hip problem looks likely to deny Gerrard the opportunity to add to his England appearance tally in the friendly internationals against Chile and Germany after being withdrawn during Liverpool's win over Fulham.
Liverpool boss Brendan Rodgers expects Gerrard to retire from international football after leading England during the 2014 World Cup, leaving the Merseyside-born man short of Peter Shilton's 125 caps, the nations' record appearance maker.
"I never expected to get that amount of caps," Gerrard said. "When I made my debut, I set myself the personal target of trying to get 50 caps and score 10 goals if I could. So to have 107 is something I am really proud of, particularly being among those names.
"I'm not looking at Shilton or Beckham. Passing Bobby Moore would be the next one. To go past him, after everything he did, would be unbelievable. But the dream would be to come away from a tournament and everyone back home is proud of the team."