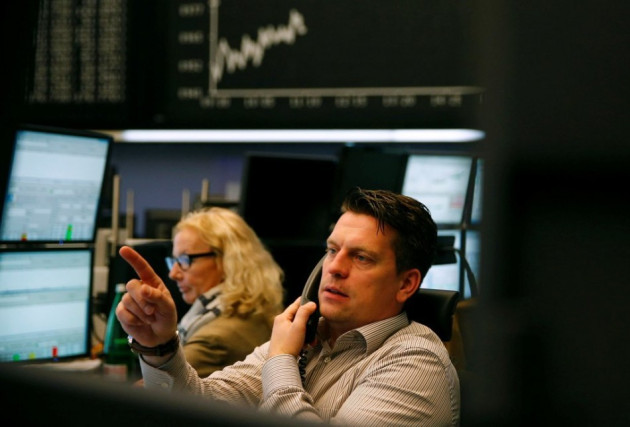 European markets opened higher on 28 October, and continued trading higher thereafter, because of positive news from Germany, where politicians struck a deal overnight to form a government. Wall Street's record finish also boosted investor sentiment.
The Stoxx Europe 600 index opened 0.1% higher to 324.24.
Britain's FTSE 100 opened flat.
France's CAC 40 and Germany's DAX 30 opened 0.1% lower.
Spain's IBEX 35 was trading 0.63% higher after opening higher.
Italy's FTSE MIB was trading 0.78% higher after opening higher.
In Germany, Chancellor Angela Merkel's conservatives and the center-left Social Democrats have agreed to a "grand coalition" after several weeks of negotiations.
Merkel will be able to form a government by Christmas.
Market players will be tracking Bank of England Governor Mark Carney's speech, scheduled at 10:30 am GMT.
Market participants will also be tracking developments in Italy, where former prime minister Silvio Berlusconi, convicted of tax fraud, has been expelled from parliament.
However, Berlusconi can still lead his Froza Italia party from outside the government.
The Eurozone's statistics office will release consumer confidence, economic sentiment and services sentiment data for the month of November during the day.
Germany will put out preliminary inflation data for the month of November later in the day.
Data from Germany showed that unemployment in Europe's strongest economy rose to its highest level since April 2011, on a seasonally adjusted basis, in November. The number of people out of work increased by 10,000 to 2.985 million.
However, the German unemployment rate remained unchanged at 6.9%.
In company news, British retailer Kingfisher's stock was trading 5.43% lower at 09:12 hrs GMT in London after it warned of challenging markets, particularly in France, despite posting a 1.7% increase in overall retail profit for the third-quarter.
British homebuilder Wolseley's stock was trading 1.18% lower at 09:16 hrs GMT after it warned that "there are no signs of improvement in market conditions across Continental Europe" and that it expects trading conditions to "remain tough for the foreseeable future".
In Asia
The Japanese Nikkei finished 1.80% higher on 28 November. South Korea's Kospi finished 0.84% higher and the Shanghai Composite finished 0.83% higher.
Australia's S&P/ASX finished 0.03% higher but Hong Kong's Hang Seng finished 0.07% lower.
Mumbai's BSE Sensex was trading 0.55% higher.
Most Asian markets traded higher and followed an upbeat handover from Wall Street.
The Nikkei finished at a six-year high on the back of a weak Japanese yen.
In Shanghai, the markets were also supported by comments from central bank governor Zhou Xiaochuan, who said on 27 November that China would accelerate reforms to liberalise interest rates and achieve capital account convertibility.
In other news, the US said it will stand by ally Japan in a worsening stand-off with China over the disputed islands in the East China Sea.
Elsewhere, in Thailand, Prime Minister Yingluck Shinawatra survived a no-confidence motion in parliament, but anti-government protests continued unabated in the capital.
Wall Street Up
On Wall Street, indices finished at record highs on 27 November, on the back of upbeat consumer confidence data.
The Thomson Reuters/University of Michigan gauge on consumer sentiment came in at 75.1 for the month of November, higher than the market expected.
The Dow finished 24.53 points higher or 0.2% at 16,097.33.
The S&P 500 ended 4.48 points higher or 0.3% at 1,807.23.
The Nasdaq closed 27 points higher or 0.7% at 4,044.75.
Tim Radford, global analyst at Rivkin Securities said in a note to clients: "US stocks gained as former Fed Chairman Alan Greenspan said the US stock market isn't in a bubble and the US economy will grow slower than expected next year".