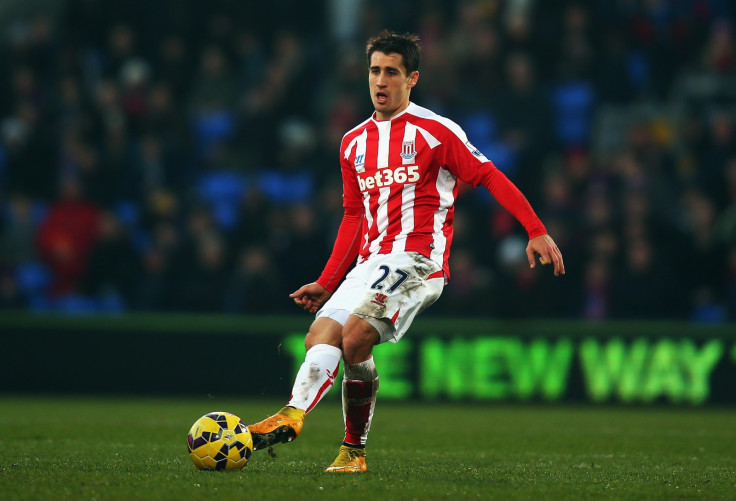 Stoke City forward Bojan Krkic had offers from both Manchester United and Chelsea prior to making his full debut for Barcelona.
Bojan, now 24, was regarded as the best player to emerge from Barcelona's famed La Masia academy since Lionel Messi prior to making his first-team bow at the age of 17.
During his years playing for the club's various youth teams, the Spaniard broke goalscoring records before being handed his debut by Frank Rijkaard. It was during this time United and Chelsea made their interest in the prodigious striker known but Bojan only wanted to play for the Catalan giants.
"I remember United were interested in him when he was 16 at Barcelona," Bojan's father told the Mail on Sunday. "Chelsea were very serious too, a year or two later, just before he signed a new deal. Luis Scolari was managing and Frank Arnesen flew out to speak to us. But Bojan only really wanted to play for Barcelona."
Since rejecting the overtures of the Premier League giants, Bojan frequently struggled to live up to that immense early expectation, with stints at Roma, AC Milan and Ajax.
After making his first-team debut at the Nou Camp, the Stoke star made over 100 appearances over the next four seasons, but his father believes Pep Guardiola's failure to keep his word led to a breakdown in their relationship.
"Guardiola didn't give him continuity," Bojan Snr added. "In the Copa del Rey, Bojan was the top goalscorer for Pep. He would score one or two goals in La Liga and then not play for weeks, it is very curious.
"In the title run in in 2010 he kept [Zlatan] Ibrahimovic on the bench. Bojan played and scored at Sevilla and Tenerife, they were decisive goals. And then at the end of the season they signed David Villa."