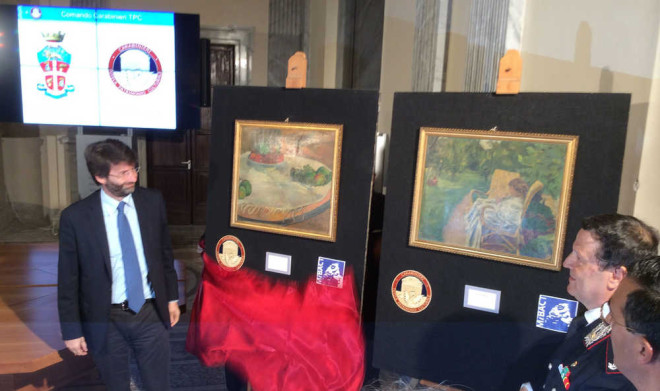 Italian police recovered two paintings by French artists Paul Gauguin and Pierre Bonnard worth an estimated £25m from the kitchen of a retired car-worker decades after they were stolen from a London house.
Gauguin's Fruits sur une Table, ou Nature au Petit Chien (Fruit on a Table, or Still Life with a Small Dog) and Bonnard's La Femme aux Deux Fauteuils (Woman with Two Armchairs) were unveiled to the cameras by police in Rome.
Italy's culture minister Dario Franceschini described the story of how the two Impressionist masterpieces ended up there as "incredible".
They were stolen from a house in Regent's Park by three men, one posing as a policeman and two as burglar alarm engineers, in June 1970.
Newspapers at the time reported that the trio entered the house claiming they had to check the alarm system and asked the housekeeper for a cup of tea.
When she returned, the paintings and the men were gone.
The canvases were later found abandoned on a Paris-Turin train but were not recognised.
A detective with the Carabinieri art squad suggested border controls at the French-Italian crossing could have forced the thieves to abandon them.
The paintings remained at the station's lost-and-found deposit for five years and were then put up for auction and bought by an art-loving Sicilian who worked at Fiat in Turin.
He bought them for roughly £300 at today's value. The Gauguin is now worth up to £24m and the Bonnard some £500,000.
After he retired, he went back to his native Sicily and hung the paintings in his kitchen.
His son had them evaluated and when their true worth was discovered, the police were called in.
Art squad chief Mariano Mossa said the original owners were dead and had left no heirs.
Under Italian law, the paintings could be returned to the car-worker if it is proved he legitimately purchased them without knowing they were stolen.