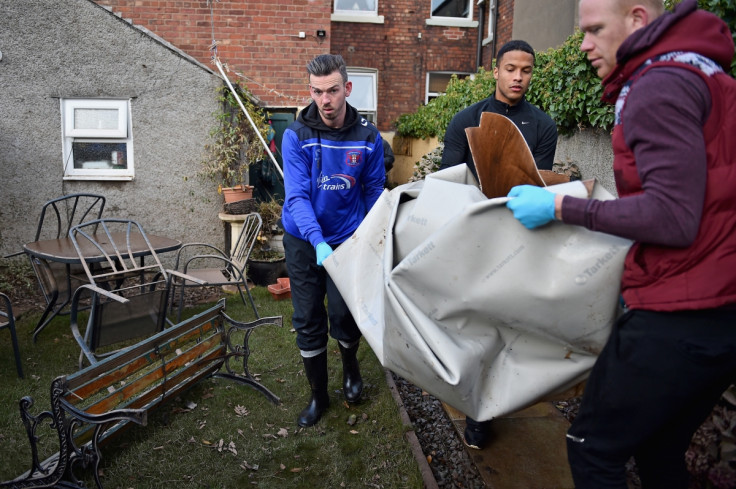 As Storm Desmond battered north west England between 4 and 6 December, Cumbria was forced to declare a major incident. The county was the worst-hit region in the country, with record-breaking amounts of rain flooding thousands of homes and forcing many others to evacuate.
Cumbria also faced mass power outages, with thousands being left without electricity for days. Schools and hospitals were forced to shut down due to the power cuts and loss of utilities such as water. As the flooding begins to recede, many have rallied together to help with relief efforts by providing food, clothing and other essential items to those who have been hit worst.
IBTimes UK has rounded up a list of ways for people to get involved in helping the people of Cumbria at this difficult time.
1. Donate essential items (food/clothing)
As thousands of homes were flooded during the storm, many people were forced to evacuate. This means that a lot of people are now in need of basic essential items, including food, water, and clothing. For those who are interested in donating the necessary items, Cumbria County Council is co-ordinating donations and urging people to get in touch with them at EmergencyOffersOfSupport@cumbria.gov.uk.
Alternatively, a group of volunteers on the ground have been collecting and delivering materials to those who need them. They have created a Facebook group to discuss volunteering needs and have put together a handy online form for anyone who wants to donate items (including a list of the most-needed items). Once you complete the form someone from the volunteering team will get in touch with you as soon as they can to discuss the details. Fill in the donation form here.
2. Volunteer your time
Apart from donating food, clothing and other materials, a number of people are required on the ground to assist with distribution efforts and other activities, such as transportation and sorting through donations. Those who are interested in volunteering their time can fill out a quick form, after which someone will be in touch to speak to you about how best you can help. You are also able to fill in your availability and location preferences, so that you are contacted for volunteering activities in your spare time. If you're unsure as to how you would like to help, a 'General Help' option is also available. Fill in the flood volunteering form here.
Additionally, you can volunteer through Cumbria CVS, a registered charity in the region. Confirm your interest in volunteering by calling them on 01768 800350.
3. Volunteer your skills
For those with particular skills that may be useful, volunteers are needed on the ground to help with restoring houses and businesses. Labourers, painters, plumbers and electricians are offering their services free of charge to those who have homes or businesses that have been affected. If you think you have a skill that could be of use during this time, you can fill in a form with the details and someone will be in touch with you. Fill in the volunteer skills form here.
4. Buy a Christmas present for a child affected by the floods
As thousands were left without clothes, food or personal belongings, Nicola Campbell and Rosie Jennings from Brampton are putting together Christmas care packages for those who now might not have the chance to enjoy a family Christmas. Anyone anywhere in the world can contribute to Jennings' Christmas fund by accessing their Amazon wishlist and ordering an item from the list, which will then be sent directly to her.
Jennings said: "Hundreds of people will be in shelters or community centres with nothing but the clothes they came in with. Please, if you can spare a couple of pounds to get something off the wishlist, then do. It would mean so much to these people."
You can find out more about her project through the Facebook group.
5. Give up a free room in your house
As thousands of homes have been destroyed, many have begun opening their own doors to those who have been affected. In an attempt to coordinate these offers in a more organized way, a group of people have put together an online form for volunteers to fill in. You are able to tell people how many bedrooms you are able to volunteer, as well as where your accommodation is based and how long you can offer accommodation for. You will then be contacted by a volunteer to coordinate your offer and match it with someone in need. Fill in the online form for volunteers here.
6. Find out what people in the area need
There's no point in volunteering aid if it's not needed by those who are affected. Therefore, the Spirit Of Cumbria website provides a useful tool for people to find out exactly what those on the ground are requesting. Apart from listing requests from those affected by the floods, there are also requests from volunteers on the ground who need help with transporting materials or those who are co-ordinating specific donations. Find out more at SpiritOfCumbria.co.uk.
7. Donate furniture
While relief efforts are under way to get people back into their homes after the evacuations, thousands will be returning home to damaged furniture because of the extensive flooding. Many have been offering their spare furniture to those whose homes have been damaged, and now you can do the same. This online form allows you to fill in your details, including where you are based and whether you are able to deliver your donations or not. You are also prompted to list what kind of furniture items you wish to donate, which will then be matched to those in need. Fill in the form here.
8. Donate to the Cumbria Flood Appeal
The Cumbria Community Foundation has already raised more than £600,000 through their Cumbria Flood Appeal. For those who are unable to volunteer their time on the ground or get their donations to the affected region, you can contribute to the relief work by donating to the Flood Appeal. The UK Government has promised to match the appeal up to £1m.
Donate online here or donate through text by sending a message to 70070 with the message 'FLUD15 £10'. The monetary amount can be changed depending on how much you want to donate.
9. Share tips on minimising flood impact to homes and health
The Met Office released useful information about how to respond during a flood, as well as how to clear up after the flood recedes. The website provides important tips such as making sure you take photographs of the damage to show your insurance company, and avoiding turning on gas and electrics that may have gotten wet until they are checked by a technician. Helping share the information will help those affected by the floods find out more about how to get back on their feet quicker. Essential information minimising the impact of a flood on your health is also available. Share the Met Office's flood advice here.
10. Spread awareness about where people can request help
Finally, with hundreds of people on the ground ready to help, it is important for those who are hit worse to be able to reach these volunteers in a quick and efficient way. Relief volunteers have put together an online form that can be filled out by anyone who has been affected by the floods and who might need some sort of assistance. Those affected can indicate what type of help they require, as well as how urgent their request is. This will guarantee a call back from someone who is volunteering on the ground. Share the help request form here.