The water has receded from homes, leaving behind muddy carpets, water-stained sofas and destroyed mementoes. Residents are counting the costs of Storm Desmond. PricewaterhouseCoopers estimates that the storm caused an estimated £500m of damage across the county – almost double the cost of the floods that hit the area six years ago.
These photos, taken just a day or two apart, show Cumbrian towns during the major flooding event, and after the water had receded.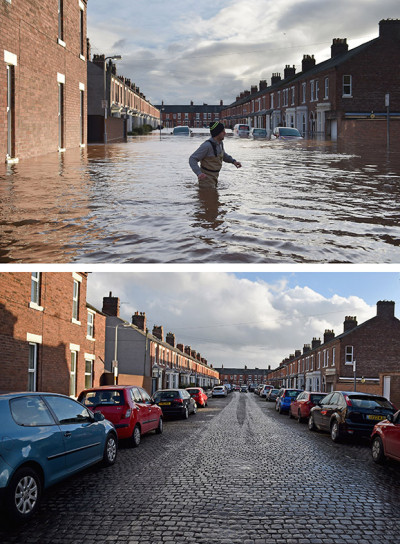 Up to 5,000 homes in Cumbria and Lancashire were flooded during the storm. The army was deployed on 6 December to assist with rescue efforts while Prime Minister David Cameron visited the flood-torn regions on 7 December.
These photos show residents clearing out their flooded homes. Hundreds of people were forced to leave their dwelling, and insurers have warned it could take up to a year for some residents to move back into their homes because of flood damage.