Tropical Storm Harvey is poised to re-enter the Gulf of Mexico later today (28 August) and hit land close to Houston once again by the middle of the week, prolonging the flooding that has crippled America's fourth-biggest city.
The National Hurricane Center expects as much as 20 more inches of rain to fall on the Houston by Wednesday, an area that has already seen turned roads into rivers and home inundated by flood water.

The region has so far seen as much as 30 inches of rainfall in recent days, requiring rescues for up to 2,000 people in and around Houston, which is home to 6.6 million people living in its metropolitan area.
Waters have reached as high as second-storey homes, with the city already receiving more than half the rainfall it gets in a typical year.
The deluge has forced officials to make painful decisions to evacuate flooded areas — and to release water from reservoirs under strain, knowing that it would flow into nearby neighbourhoods.
The US National Weather Service says conditions are "unprecedented". A "flash flood emergency" is in force across the Houston area, with travel near impossible. The body has already called the first round of rains a once in 500 year flood.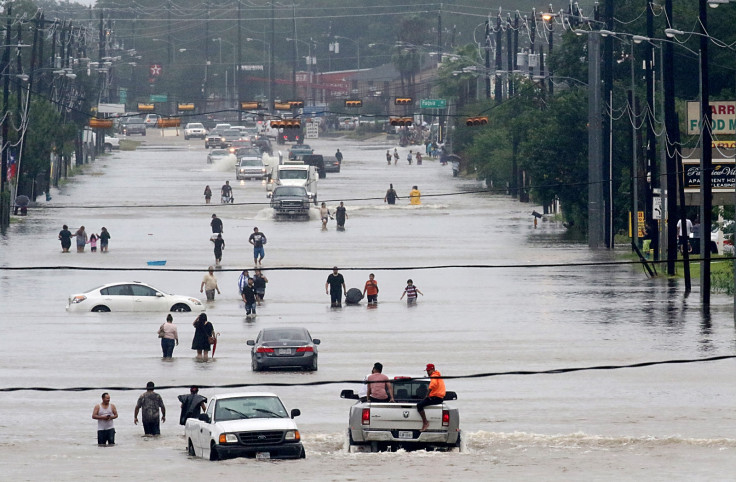 Thousands of homes are without electricity. Many schools are closed – as are the two main airports, with runways completely flooded.
Harvey was the first major hurricane to make landfall anywhere in continental America since Hurricane Wilma hit Florida in October 2005. It was also the first hurricane to make landfall in Texas since Ike in 2008.
Insurance experts quoted by Reuters news agency say it could equal the devastation inflicted by Hurricane Katrina in 2005 - reportedly the most expensive natural disaster in US history.
Katrina caused about $15bn (£11.6bn) of flood damage in the states of Louisiana and Mississippi.