Many of us woke up this morning to find that Manchester United had confirmed the biggest signing in football history in the dead of night. Paul Pogba's £89m arrival from Juventus was finally done at 12:30am Tuesday morning (9 August). He was relieved. The club were relieved. Everyone who had sat through the summer's longest running transfer saga was relieved.
It just isn't quite a summer anymore without a tedious saga demanding column inches and web space for months on end. Gareth Bale to Real Madrid, Cesc Fabregas to Chelsea and Angel di Maria to Manchester United are some of the more recent examples that relentlessly rumbled on, feeding football fans desperate for the tiniest morsel of gossip during the barren summer months.
But even by standards we have come to expect, Pogba's long-winding route back to Manchester was something else. IBTimes UK look back on some of the moments were things all got a bit silly.
Paul Pogba's barber confirms transfer of the century
In addition to his not-too-shabby abilities as a footballer, Pogba also prides himself on being a purveyor of slightly outrageous barnets. A man who frequents the barbers as often as the France international surely knows the man cutting his hair well, right? Why wouldn't he share the biggest transfer scoop of the summer with him?
A Instagram post from Miami-based barber Criztofferson – later deleted – claimed back at the height of Pogba madness shortly after Euro 2016 ended that the midfielder had made up his mind to return to Manchester.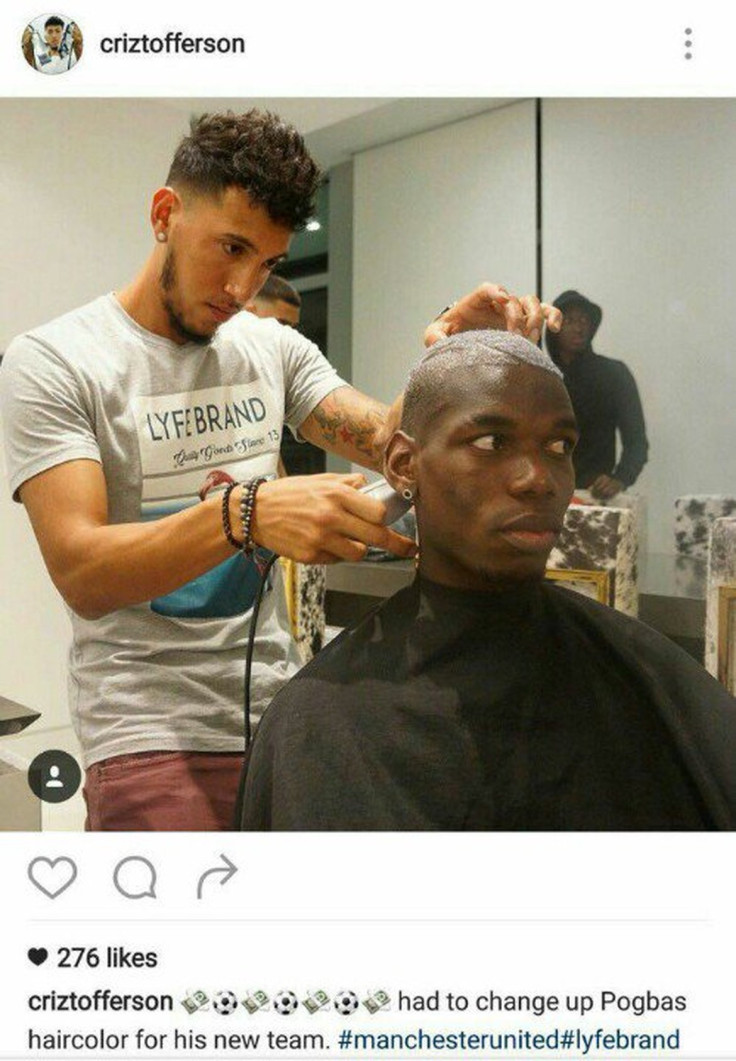 Jose Mourinho's tell-tale tactic board
On one boring Tuesday afternoon in July, Jose Mourinho's wife Matilde posted a picture on Twitter of her husband standing in his office at Carrington. In the background, there was what looked like a tactics board in a backroom. Chaos ensued.
If you squinted really, really, really hard in the right light, you can just about make out... well, nothing at all. There was no way for any rational thinking person to decipher what was scribbled on Mourinho's white board. Yet some Manchester United fans had themselves convinced they could clearly read the name 'Pogba' anchoring the Portuguese coach's midfield.
Stormzy joins the party
The weight of Manchester United's £750m sponsorship deal with Adidas, and the fact that Pogba is perhaps their biggest European-based client, meant the sportswear giant was always going to have a role in this saga. At the end of July, Adidas stepped up their marketing campaign and enlisted the services of grime star Stormzy to fuel the hype machine with a promotion video featuring the him and the France international.
"Don't believes everything you read in the papers," Pogba says in the video which then cuts to a shot of a United billboard with the words "blah blah blah" written across it – a clear reference to a tweet made by agent Mino Raiola in reference to mounting speculation over the transfer.
The video then cuts to Stormzy, dressed in a United tracksuit stood outside Old Trafford, who quotes his 2015 single "Shut Up" after reading the United billboard, before the cameras cuts back to Pogba laughing.
At the time, it seemed unlikely Adidas would troll their biggest clients without something major in the making.
Stormzy strikes again
That wasn't the last role Stormzy had to play in this chronicle. Hours ahead of official confirmation of the transfer, the grime star dropped a new adidas promotional video on his Facebook page, again featuring the two. Only this time, he was decked out in a United shirt with Pogba's name emblazoned across the back. The video was swiftly taken down, but not before a fanbase gasping for fresh developments had eaten it up. Adidas gave the same video an official push hours later once the move was confirmed.
Laundry ladies
Stormzy wasn't quite first to breaking the move on Monday, however. In a stark contrast to the glamour marketing pushed elsewhere, the now former Juventus midfielder was pictured in a rather lovely snap with the laundry ladies of Carrington who used to wash his kit. The picture, eagerly snapped by someone's mum, was all over Twitter by dinner time. A backdrop of washing machines and dryers rather than the logos of the clubs four hundred sponsors was a nice touch.