Their music was once heavily criticised for being misogynistic so it was inevitable that the historic controversy surrounding legendary rap group N.W.A. would be dredged up. However, former talk show queen Oprah Winfrey did not hesitate in politely shutting down one critic on Twitter.
The 61-year-old heaped praise on the Straight Outta Compton biopic, which charts the rise and success of the controversial 1980s rap collective, describing the picture as "powerful". Winfrey tweeted to Selma director Ava DuVernay: "Just saw #StraightOuttaCompton. Powerful! Powerful! Have u seen it?"
DuVernay replied: "Not yet, @Oprah. Super curious. Interested to see how @FGaryGray chronicles who they were + what they did. And to see my hometown on screen." However, one Twitter user did not appreciate Winfrey's compliments about the film and hit out: "Do they show how NWA promoted misogyny and violence against Black women? #StraightOuttaCompton."
Evading the criticism in the question, the TV icon replied diplomatically: "Shows the history of how it all started." When the Twitter user, named Gina, continued to press the issue and slammed black women for supporting the film, Winfrey shot back: "[It] was eye opening rap education for me. #StraightOuttaCompton."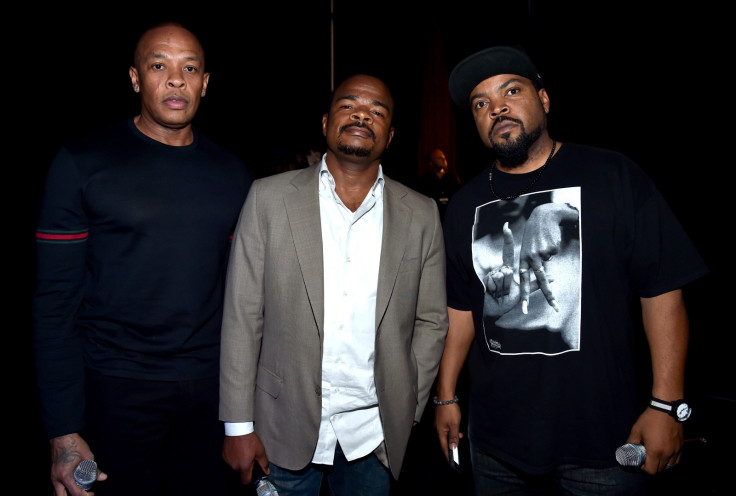 N.W.A., which consisted of Ice Cube, Dr Dre, MC Ren, DJ Yella and the late Eazy-E, sparked a storm of scandal in the late 1980s with their lyrics speaking out against the police, even prompting the FBI to contact their record label at one point. Ice Cube, 46, remained unapologetic when speaking about the events chronicled in the biopic, telling a group of reporters: "I can expect some people will love the film and hate the group still. And that's fine, because it's all about being real. We want people to be real even when criticising... and if you don't like the movie, you can kill yourself."
The film, which has been directed by Compton-native F. Gary Gray, will see Ice Cube portrayed by his own son, O'Shea Jackson Jr., with unknown actors Corey Hawkins, Jason Mitchell and Neil Brown Jr., also cast in the lead roles. Straight Outta Compton hits cinemas in the UK on 28 August. The film has also been promoted through the release of Dr Dre's first album in 16 years, Compton: A Soundtrack, which has been inspired by the movie.