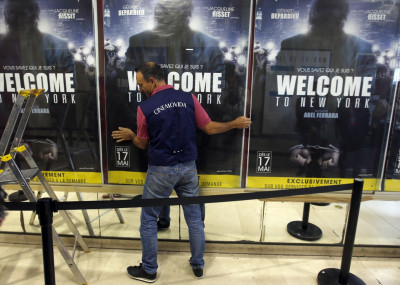 Dominique Strauss-Kahn is to sue for defamation the producers of Abel Ferrara's movie Welcome to New York, which is inspired by the sex scandal involving the former IMF chief, his lawyer said.
Jean Veil, Strauss-Kahn's lawyer, described the movie as "crap" and said it leaves little doubt that the main character of George Devereaux, an unrepentant sex-addict politician played by Gerard Depardieu who finds himself accused of assaulting a hotel maid, actually portrays his client.
"[Strauss-Kahn] gave me instructions to file a complaint for defamation over allegations of rape and innuendos in the movie," Veil told Europe 1 radio.
In the movie Depardieu/Devereaux is shown forcing a hotel maid into oral sex, after she enters his suite to clean it, surprising him in the shower.
Strauss-Kahn, 65, was forced to resign from the IMF and abandon hopes to run for French president, after he was accused of rape by Nafissatou Diallo, 33-year old chambermaid at a luxury New York hotel in 2011.
Diallo claimed that Strauss-Kahn emerged naked from the bathroom of his suite, as she was tidying it, and assaulted her.
Criminal charges were later dropped but Diallo fought a civil lawsuit which was settled in 2012 for an undisclosed sum, rumoured to be up to $6m (£3.5m).
The film comes with a legal disclaimer that says it is inspired by a well-known judicial case but characters and portrays of their private lives are fictional.
A promotional premier of Welcome to New York was screened over the weekend in Cannes, followed by a risqué celebratory party, during which Ferrara and the guests donned white bath robes, and party bags came with complementary S&M whips, handcuffs, condoms and even tablets labelled 'Viagra'.
Veil said that Strauss-Kahn won't take action to prevent Welcome to New York to be distributed, but warned movie-goers about its quality.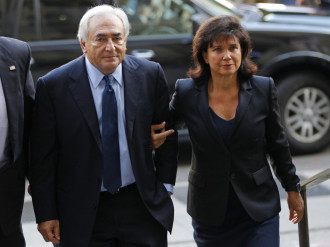 "The truth is that it [the movie] is crap: it's like a dog's dropping," he said.
He also backed accusations moved by Strauss-Kahn's ex-wife, Anne Sinclair, a journalist and the heiress to an art fortune, that the picture is anti-Semitic.
Sinclair, who stood by her husband during the scandal but later divorced him, said suggestions in the movie that her family amassed a fortune during the WWII Nazi occupation of France are false.
Played in the picture by Jacqueline Bisset, Sinclair is the granddaughter of Paul Rosenberg, a renowned art dealer, collector and discoverer, who was forced to flee Paris to the United States with his Jewish family in 1940.
"My grandfather had to flee the Nazis and was stripped of his citizenship by the Vichy government," she wrote on the French version of The Huffingron Post, of which she is the editor.
"My father joined the Free French Forces and fought until the liberation. To Say something different is the libel."
Sinclair said she was "disgusted" by the movie but, unlike her former husband, will not take legal action.
Strauss-Kahn is currently facing aggravated pimping charges in France, over allegations he participated in a prostitution ring centred on the Carlton Hotel, in Lille, where orgies described as "carnage with mattresses all over the floor" were held.