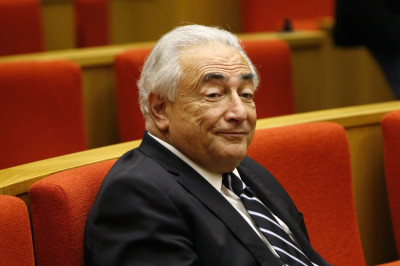 Dominique Strauss-Kahn is threatening legal action to prevent a Belgian sex club to open under an insignia bearing his acronym: DSK.
Club owner Dominique Alderweireld, aka Dodo la Saumure [Dodo the Brine or Pimp], claims that DSKlub stands for "Dodo's Sex Klub", but lawyers for the former International Monetary Fund chief - a known philanderer - are not convinced.
"Mr. Strauss-Kahn has announced that he will take all judicial measures necessary to end the damage to his name which results from this," lawyers for Strauss-Kahn, commonly referred to as DSK, said.
The legal team claimes that Alderweireld deliberately chose the name DSKlub to play on Strauss-Kahn's initials and reputation.
The sex entrepreneur, who owns other "pleasure houses" in Belgium, denies claims; although he admits that the buzz created by the opening is good for business.
"It's fantastic, everybody is talking about it, DSK," he told AFP.
Divided on two floors the DSKlub is to open in Bernissart-Blaton, just off the French border, and will employ girls and a transsexual.
Pool dances will reportedly be performed downstairs while customers can enjoy what the club has to offer in seven dedicated bedrooms upstairs.
Strauss-Kahn, 65, was forced to resign from the IMF and abandon hopes to run for French president in 2012, after he was accused of rape by a maid at a luxury New York hotel in 2011.
Criminal charges were later dropped but the incident opened the gates to a number of fresh claims against DSK and investigations into his sexuaul conduct that eventually resulted in a fresh trial on aggravated pimping charges which is due to start in France.
Judges in the northern city of Lille allege Strauss-Kahn participated in a prostitution ring centred on the Carlton Hotel, where orgies described as "carnage with mattresses all over the floor" were held.
If convicted, Strauss-Kahn faces a maximum of ten years in jail and a fine of up to €1.5 million (£1.29m).